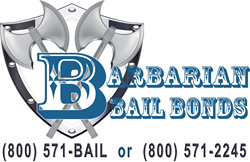 For many people, they only experience the criminal justice system when a loved one gets arrested.
(PRWEB) November 18, 2015
Barbarian Bail Bonds, a top-rated Fullerton Bail Bonds company at http://www.barbarianbb.com/, is proud to announce the relaunch of its popular no obligation, no cost bail bonds lookup service. The company allows persons to call in, identify a loved one who has been arrested, and utilize a lookup service. The service identifies where the loved one has been incarcerated as well as details of their charges.
"For many people, they only experience the criminal justice system when a loved one gets arrested," explained Francisco Cobo, owner of Barbarian Bail Bonds. "It can be very confusing to them. Therefore, our lookup service is being relaunched just in time for the holidays, when (unfortunately) arrests spike due to alcohol and Holiday party behavior. We will lookup bail information at no charge when someone calls in."
To learn more about the service, please visit the home page of Barbarian Bail Bonds of Orange County at http://www.barbarianbb.com/. There, one can learn about the service as well as call or send an email with specific questions about a loved one who has just been arrested in Orange County.
Lookup Service for Bail Bonds Information
The reality for most people is that they are not very experienced with the criminal justice system. For many people their experience begins, unfortunately, when they receive a phone call from a loved one who has been arrested. They may also learn of the arrest of a loved one through other mechanisms such as a text message or message from a friend. To make matters more complicated in Orange County, there are many different cities such as Santa Ana, Irvine, or Fullerton, and their loved one may be transported from one city to another, depending on the circumstances and the crowding of particular jails in Orange County.
In addition, the criminal charges and the specifications of the bail required can be complex to the uninitiated. The service from Barbarian Bail Bonds helps people navigate this maze by providing a no-cost lookup. This will identify where the loved one is being held, the charges against him or her, and the cost of bail.
About Barbarian Bail Bonds
Barbarian Bail Bonds is Southern California's top-rated bail bonds. With offices in Orange County, San Bernardino County, and Riverside, the company's bail bond agents are convenient to clients anywhere. Whether a client is looking for a Fullerton bail bonds or a Bail Bonds in Santa Ana, whether the search is for affordable (even cheap) bail bonds in Victorville or Temecula Bail bonds, Barbarian Bail Bonds has both offices to serve clients and agents that can come to a residence. The company offers 24/7, emergency bail bonds services and can explain how the bail bond process works. Bail Bond offices include the cities of Fullerton, Santa Ana, Victorville and Temecula California, with service areas of approximately twenty five miles from any office.