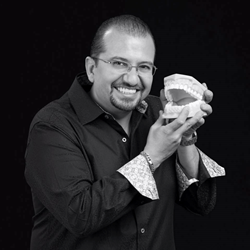 Orange County, CA (PRWEB) May 03, 2017
About three million Americans currently have dental implants, and about a half million more join them every year. The gold standard for replacing teeth, dental implants, are strong, stable, and as close in design to the natural tooth as any currently available restoration can be. However, a 2005 study found that up to ten percent of dental implants can fail, largely due to peri-implantitis. Peri-implantitis is an inflammatory condition that affects the tissues surrounding the implants. It occurs when oral bacteria create biofilms such as plaque, on the implants. Orange County dentist, Dr. A. Rassouli comments on the new study that focuses on reducing the risk of dental implant failure.
Researchers from the University of Plymouth and it's School of Biological Sciences worked together to develop a nano coating for dental implants specifically designed to prevent peri-implantitis. During the study, which was published in "Nanotoxicology" and described in MedicalXpress.com, the team combined nano coatings that included hydroxyapatite, silver, and titanium oxide and applied them to the surfaces of titanium alloy implants.
The nano coating effectively reduced plaque formation by 97.5 percent and improved the integration process, significantly reducing the risk of infection. More research is needed to demonstrate the safety, effectiveness, and biocompatibility of nano coatings in medical devices for use in humans. However, this study has provided researchers with extensive information about new ways to overcome the risks associated with current infection risk reduction strategies, which include the use of antimicrobial coatings.
Dr. Rassouli offers the latest dental technology, including dental implants. Dental implants can be paired with dental crowns, bridges, or dentures for a fully customized tooth replacement solution. He also offers:

Teeth whitening
Porcelain veneers
Pinhole surgery
Emergency dentistry
One-visit crowns
TMJ treatments
About Dr. A. Rassouli
Dr. A. Rassouli is a graduate of USC's Dental School. During his time there, he served on the Accreditation and Ethics Committees and served as the class president for four years in a row. He was also recognized for his academic accomplishments and leadership skills. After graduation, he became a part-time clinical faculty member at the University of Southern California and a member of the prestigious Century Club. He also cofounded the South Coast Dental Academy.