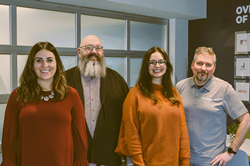 "I am proud to welcome these talented and dedicated Directors to our Leadership Team." - Nick Damoulakis, CEO, Orases
FREDERICK, Md. (PRWEB) February 07, 2023
Orases is proud to announce additions to the organization's Leadership Team for 2023. The expansion comes on the heels of a year of record growth for Orases, as they saw a fifty-eight percent increase in revenue and hired twenty new team members in 2022.
Orases Directors joining the Leadership Team:

Kevin Long - Director of Business Analysis
Kathryn Murphy - Director of Operations Logistics
Larissa Severn - Director of Client Engagement
Mike Swierzbinski - Director of Engineering
These Directors will be working alongside existing Leadership Team members Jakob Hunt, Director of People & Culture; Amy Damoulakis, CFO; Vlad Polyanov, CTO; and Nick Damoulakis, CEO. The expanded Leadership Team is aimed at ensuring strategic alignment and fostering continued growth for the company.
"I am proud to welcome these talented and dedicated Directors to our Leadership Team," said Nick Damoulakis, CEO of Orases. "Their contributions were instrumental in our success over the past year, and I am confident that they will continue to drive sustainable growth for the company in the future."
ABOUT ORASES
Orases is a full-service, digital technology agency based in Maryland. Founded in 2000, Orases has become a trusted provider of custom software, website and application development services and solutions that drive efficiency and provide measurable cost savings and revenue gains to their client partners. Learn more at Orases.com.