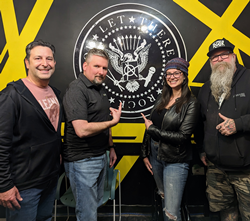 "Cognitive abilities, creativity, critical thinking, and problem-solving skills are essential for success in any field, especially in the tech industry." - Nick Damoulakis, CEO, Orases
FREDERICK, Md. (PRWEB) March 28, 2023
Orases, a leading custom software development company based in Frederick, MD, is proud to announce its support of local musicians at the Let There Be Rock School of Frederick, via the school's youth sponsorship program.
The sponsorship is part of Orases' ongoing commitment to supporting the arts and local businesses. Orases is proud to partner with the Let There Be Rock School to help cultivate a love of music in young people and provide them with the resources they need to develop their skills and pursue their dreams.
"Cognitive abilities, creativity, critical thinking, and problem-solving skills are essential for success in any field, especially in the tech industry," said Nick Damoulakis, CEO of Orases. "Studies show that students who study music perform significantly better in math and science, making investing in music scholarships for children a valuable investment in their future careers."
At the Let There Be Rock School of Frederick, youth sponsorship recipients receive funding for their tuition and other expenses associated with their music lessons. All of the school's talented musicians have the opportunity to work with some of the best instructors in the area and receive valuable performance experience through concerts and other events.
About Orases:
Orases is a full-service, digital technology agency based in Maryland. Founded in 2000, Orases has become a trusted provider of custom software, website and application development services and solutions that drive efficiency and provide measurable cost savings and revenue gains to their client partners. Learn more at Orases.com.
About Frederick Rock School:
Frederick Rock School is a music school located in Frederick, MD, that offers private lessons, group classes, and performance opportunities to students of all ages and skill levels. The school's mission is to provide high-quality music education to young people in the community and help them to develop a lifelong love of music.
For more information about Orases or Frederick Rock School, please visit http://www.orases.com or http://www.frederickrockschool.com.