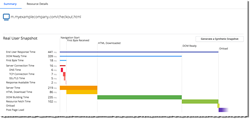 Orasi's Selenium scripting offering for AppDynamics Browser Synthetic Monitoring provides key support for achieving near-immediate, actionable visibility into website performance.
Kennesaw, Ga. (PRWEB) September 12, 2017
Orasi Software, an Atlanta-based software quality reseller and professional services company, has launched a Selenium scripting services offering to help customers of application intelligence leader AppDynamics make more effective use of the company's Browser Synthetic Monitoring solution.
Browser Synthetic Monitoring, a component of AppDynamics' End-User Monitoring suite, is an active monitoring, aka "synthetic monitoring," tool. These solutions repeatedly check the statuses of websites and their web services, as well as any other connected or integrated apps, to ensure 100 percent availability—even in the absence of user traffic. This information enables teams to identify and respond more quickly to site outages or issues, minimizing the odds of a degradation in user experience.
A key part of the Browser Synthetic Monitoring solution is the ability to script process workflows. Selenium, a software-testing framework for scripting, incorporates a record/playback tool that speeds script development while eliminating the need for teams to learn a scripting language. As such, it is an ideal companion to streamline scripting for the AppDynamics tool. Orasi's expanded offering is a comprehensive service and support package for this solution, including development of the Selenium scripts that support Browser Synthetic Monitoring workflows.
Orasi has been a reseller of AppDynamics since August 2014 and has a long history of offering consulting services around Selenium. With the addition of this new service and support package, Orasi can provide its clients with an end-to-end solution for achieving near-immediate, actionable visibility into website performance.
For each engagement, customers can choose the ideal combination of services for their needs, including:

Deploying/provisioning and/or optimizing AppDynamics
Transitioning to synthetic monitoring
Analyzing problems and developing business requirements
Writing Selenium scripts and integrating them with the new solution
Baselining and tracking issues paired with trend analysis
"Given the rapid acceleration of user expectations—and the financial impact of user dissatisfaction—many companies are adopting synthetic monitoring to help optimize website performance," said Alex Darby, AppDynamics Service Delivery Manager. "Orasi's 15 years of success providing software quality services and products to its customers, paired with our team's deep scripting proficiency in Selenium, perfectly positions us to help customers optimize their use of this technology."
About Orasi Software, Inc.
Orasi is a leading provider of software, support, training and consulting services. Through strategic industry partnerships, Orasi offers market-leading automated testing, application performance management/intelligence, test data management and coverage, continuous delivery/integration, data visualization and mobile technologies to enable customers to focus on a complete software quality lifecycle. For more than 15 years, Orasi has helped customers successfully implement and integrate software testing environments to reduce the cost and risk of software failures. Visit http://www.orasi.com.
Orasi is a trademark of Orasi Software, Inc. All other product and company names are trademarks or registered trademarks of their respective owners.