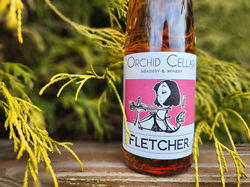 "We are excited to launch Fletcher, the arrow maker, during the month of love." - Marzanna Wilk, Owner, Orchid Cellar
MIDDLETOWN, Md. (PRWEB) January 26, 2023
Just in time for Valentine's Day, Orchid Cellar Meadery and Winery announced today that they will publicly release their latest mead "Fletcher" at noon on Saturday, February 11, in their tasting room during their "All You Mead is Love" event. A passionate blend of succulent strawberries and sweet honey, Fletcher is Orchid Cellar's first classic strawberry mead.
"We are excited to launch Fletcher, the arrow maker, during the month of love," said Marzanna Wilk, Owner of Orchid Cellar. "It is full of fruity flavor to fulfill your desires. Surely you will fall in love at first taste."
Fletcher will be available for tasting in Orchid Cellar's classic mead flight during the event.
Fletcher will also be available for purchase by the glass and the bottle. Additionally, Fletcher will be included in Orchid Cellar's flight pairing of four meads and four handcrafted chocolates from Zoe's Chocolate Co. Limited flight pairing tickets are available for $25.00 on Orchid Cellar's website.
"All You Mead is Love" will take place from noon to 6:00 PM on Saturday, February 11, and from noon to 5:00 PM on Sunday, February 12, at Orchid Cellar's tasting room. The tasting room is located at 8546 Pete Wiles Road, Middletown, Maryland, 21769.
Orchid Cellar is a woman-owned, family-operated meadery and winery located in the Middletown Valley west of Frederick. Established in 2006 as Maryland's first meadery, Orchid Cellar specializes in ancient Polish mead recipes and experiments with new-world taste. Operations were expanded in 2016 to include a hand-built log cabin tasting room that has the same warmth and artisanal character as the meads. With a scenic mountain view, Orchid Cellar
treats visitors as friends and creates a welcoming environment for all to enjoy the world's oldest form of alcohol.
For more information call 301.473.3568 or visit http://www.orchidcellar.com