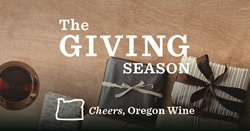 This holiday season is a great time to support the workforce of 30,000 growers, vineyard stewards, and other professionals who contribute to Oregon's growing wine economy.
PORTLAND, Ore. (PRWEB) December 09, 2020
Having just been through a state-mandated pause on onsite tastings at Oregon wineries for two weeks, Oregon wine country is once again open for business. Both the Oregon Wine Board and Travel Oregon encourage Oregonians to keep our cultural landscape alive and well by taking advantage of online delivery, curb-side pickup, take-out orders, and outdoor tasting to ensure Oregonians' glasses are always full.
This holiday season is a great time to support the workforce of 30,000 growers, vineyard stewards, and other professionals who contribute to Oregon's growing wine economy. Now through December 31, the Oregon Wine Board is connecting consumers and wineries to help support each other through charities and also reward buyers of Oregon artisan products, such as wine. Called The Giving Season, the statewide program aims to help support charities ranging from One Community Health Center in the Gorge to Oregon Fire Relief donations in the Willamette Valley to assistance for Rogue Food Unites in Southern Oregon. Gifts to consumers include discounts on bottles and shipping, wine charms and more.
Similarly, Travel Oregon has launched a statewide campaign called Give the Gift of Oregon in partnership with the Governor's Office and Built Oregon. For the campaign, Travel Oregon has created an online platform listing gifts from regional artisans and products as well as niche gift categories such as "Give the gift of food and drink," with wine, beer and spirits packages featured. In addition, Travel Oregon has created an industry toolkit where businesses can learn how to engage with this campaign.
This year has been globally challenging, and for the $5.6 billion Oregon wine industry, wineries who rely on travel and tourism traffic have been hit particularly hard with shutdowns. Wine tourism is an $800 million business in Oregon. According to a study by Dr. Suzanne Cook commissioned by Travel Oregon, more than 50% of visitors who get a taste of Oregon when they vacation here seek out Oregon products once they return home, with beer and wine topping the list. This shows that tourism not only brings in revenue to the state, but that the economic impact continues to compound for Oregon businesses and families once these travelers return home.
Oregon Governor Kate Brown's new statewide guidelines for tasting rooms are effective December 3. The new framework, which replaces the previous phased reopening plan, outlines four levels of risk that will be determined on the county level, and risk levels will be reassessed every two weeks. Most of Oregon's 36 counties fall under the "Extreme Risk" category, also where the bulk of wine is tasted and served, and as of Dec 3 may operate outdoor tastings with "takeout highly recommended." Outdoor tasting areas may serve a max of 50 people at capacity, max six people per table from a limit of two households, with 11:00 pm closing time, according to the activity table. The framework will be re-evaluated December 17 by the Oregon Health Authority, which will then update tasting rooms based on that week's data.
Please refer to this site for the list of Oregon tasting rooms, making sure to call ahead before setting out: https://visit.oregonwine.org/.
###
About the Oregon Wine Board
The Oregon Wine Board is a semi-independent Oregon state agency managing marketing, research and education initiatives that support and advance the Oregon wine and wine grape industry. The Board works on behalf of all Oregon wineries and independent growers throughout the state's diverse winegrowing regions. Visit oregonwine.org.