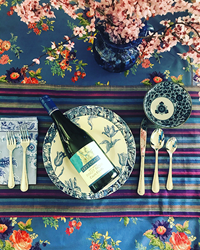 In the winemaking industry, it truly takes a village and we would not be where we are without the community around us. This is our way of saying thank you.
RICKREALL, Ore. (PRWEB) August 17, 2020
In these uncertain times, the team at Left Coast Estate put their heads together for how they could meaningfully give back. The winery, located in the newly designated Van Duzer Corridor AVA in Oregon's Willamette Valley, had seen the profound impact of the COVID crisis on the hospitality industry and felt compelled to act. The idea that blossomed from their conversations was a first-of-its-kind venture in the wine industry: pay-what-you-can. Across the country, thousands of restaurants remain boarded up and millions of Americans are unemployed. "We know that our wine is part of a rarified world," says Creative Director and Family Ownership, Cali Pfaff. "But we also believe wholeheartedly that wine brings people together. We decided as a family to forgo profits for this effort so that we could share our wine more broadly during this challenging time. We hope, in a small and modest way, that our wine will make someone's day."
The idea of a charitable component came shortly thereafter in a discussion on how to use any profits. "We are a second-generation, family-run business and that gives us certain freedoms in decision-making," says CEO and Family Ownership, Taylor Pfaff, "We realized in a pay-what-you-can scenario, we could donate the proceeds after our production costs were covered and help out our community more." The family selected five nonprofits to support through the effort, including the NAACP, the Oregon Community Foundation, the Sentencing Project, Ducks Unlimited, and Salud. The nonprofit partners align closely with Left Coast's mission and values, including environmental conservation, an atmosphere of welcoming and inclusion, and dignity and living wages for agricultural workers. Customers are free to choose which of the five nonprofits their proceeds support. The name, Pinot for the People, represents a desire to shake off the pretentiousness and exclusivity often associated with winemaking and Willamette Valley wines. "We are grape-farmers at our core," says Taylor. "We are really here to build a community and share the fruits of our harvest."
Through the end of 2020, Left Coast is selling their 2017 Cali's Cuvee (92 points from Wine Enthusiast) on a pay-what-you-can basis, starting at $12. That is 50% off of the MSR of $24. All revenue over $11 will be donated to one of the five nonprofits. The promotion is online only through the company's website, https://leftcoastwine.com/pinot-for-the-people. "We are so grateful to the restaurants, somms, retailers, distributors, consumers, and wine club members that have supported us over the past 17 years," says matriarch and Founder, Suzanne Larson Pfaff. "In the winemaking industry, it truly takes a village and we would not be where we are without the community around us. This is our way of saying thank you."
About Left Coast:
Left Coast Estate is a family-run winery, vineyard, and working farm. We are guided by two defining principles: a passion for making world-class wine from all-Estate fruit and a deep connection to the land where we live and farm. Each bottle is crafted to represent the unique terroir of our 490-acre estate. Our focus on terroir aligns with sustainable farming practices to preserve the integrity of our land for future generations. Our vineyards and winery are certified sustainable through LIVE, an independent, third-party certification that looks at all of the inputs into the land to ensure that they are in line with the latest university research and internationally accredited standards. We maintain over 200 acres of ecological compensation areas, of which over 100 acres are old growth white oak forests. Our oldest oaks are up to 450 years old and are the most threatened habitat in the Willamette Valley. We've partnered with the US Department of Fish & Wildlife to restore these forests by removing invasive species and bringing them under long-term care and conservation. Our visitors and guests have enjoyed the transformation of the Estate as USA Today voted us as Oregon's Top Tasting Room of 2017 and most recently voted top 100 Best fan-favorite destinations in Oregon 2019.
Connect on social:
@leftcoastwine
#pinotforthepeople