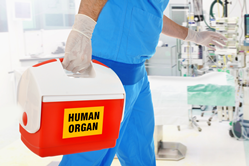 The relationships between the organ donor and transplant profession, and those of us in aviation medical transportation are invariably linked with the same purpose to meet the needs of patients and the organs they depend on.
LAKEWOOD, N.J. (PRWEB) September 14, 2020
The interconnectedness of the aviation-medical profession and its mission of transporting lifesaving organs hovered through unexpected obstacles during the early days of the pandemic. While the aviation medical transport segment continued its emergency flights with physicians and nurses aboard, the virus posed unique challenges for both organ procurement and transplantation, and those aviation medical transport companies, air rescue, rotary-wing (HEMS) and fixed-wing (AEMS) emergency medical services (EMS), faced unprecedented challenges.(1) But Sim Shain, CEO and Founder of ParaFlight EMS and Aviation, and OrganFlights.com], is no stranger to navigating a national crisis while transporting donor organs, and the physicians and nurses to receiving hospitals and healthcare facilities.
Shain's 27-year career in the pre-hospital air-med transport profession includes the 9-11 crisis as he was a true first responder that day. "Although the COVID-19 pandemic impacted the transportation, logistics, testing, and treatment challenges of organ donation and transplant surgeries, emergency aviation medical services is the nature of what we do every day," said Shain. "Both the aviation medical transport and organ transplantation professions are highly-regulated fields with specific centralized reporting procedures at every level. Collectively, we have adapted to the rapidly changing circumstances and will continue to work through these unprecedented challenges until the pandemic ceases to impact our mission of transporting lifesaving organs to hospitals for the patients' transplantation surgeries."
The Issues Healthcare Faced

The inability to rapid-test organs and tissue for the virus was a major factor in the decline of transplants.(2)
There was a severe shortage of ventilators in areas that were struck hard by the virus since in addition to the donor—who is placed on a ventilator—the recipients of the heart, lungs, kidneys and liver need ventilators as well.
Concerns about the safety of accepting donors who could possibly be COVID infected, and whether it would transmit to the recipient.(2)
One team of researchers in the United States reported a decline of recovered organs from more than 110 a day on March 6 to fewer than 60 per day on April 5. During the same timeframe, the number of transplanted kidneys dropped from nearly 55 a day to about 35 a day.(3)
As hospitals grappled with the shortages of supplies and risks of the virus to patients, the number of organ transplant surgeries procedures plummeted; the availability of organs fell as a natural byproduct. The United Network for Organ Sharing (UNOS), which manages the nation's transplant system, said donations bottomed out in late March and early April.(2)
In collaboration with his network of aviation partners, and a team of physicians and nurses, organ procurement organizations and transplant programs, Shain was determined his company would prevail to provide private flights at no cost during the most grueling period of the pandemic. Within 75 flight hours, ParaFlight conducted 30 missions, including two flights that transported over 7,000 plasma test tubes to the Mayo Clinic. The company transported medical equipment to other hospitals and healthcare facilities, including a midnight flight to pick up a specialized ventilator in Albany, NY, via helicopter and flew it to NYC for a patient. Additionally, Shain volunteered and flew along with COVID-19 patient Eli Beer, the noted founder and President of United Hatzalah, an Israel-based EMS volunteer service, on a flight from Miami to Israel.(3) "We provided the medical personnel, ambulance and medical equipment at no charge. In other missions, we repatriated more than 100 people back home, both medical and those who were elderly and/or immunocompromised who couldn't risk flying commercially, he said. "We also flew patients on commercial aircraft with one of our medical escorts, which is an added benefit of our services."
To quantify the impact of the COVID-19 outbreak on organ donation and transplantation, a study showed approximately 40,000 people receive transplanted organs yearly in the United States. By early April of this year, however, transplants of all types had fallen by half.(4) According to UNOS, lung transplants have increased 7.3% whereas heart transplants increased 4.2%.(5)
Yet by early June, transplants were almost back to pre-pandemic levels, and heart transplant specialists credit a mix of factors.(2) When testing became more available, doctors could confirm if both donor and recipient were COVID-negative. As cases of COVID-19 appeared to be leveling off in many areas, ICUs opened up.(2)
"ParaFlight stands ready as our partners and network of dedicated aviation medical professionals reinvigorate the highly-respected transplant infrastructure as the pandemic begins to lessen," said Shain. "The relationships between the organ donor and transplant profession, and those of us in aviation medical transportation are invariably linked with the same purpose to meet the needs of patients and the organs they depend on. We remain impenetrable to the challenges that crisis brings and are positioned to steadily increase our mission of serving others."
About Sim Shain and ParaFlight EMS and Aviation
Sim Shain, Founder and CEO of ParaFlight EMS and Aviation, has led a remarkable 27-year career working in the pre-hospital emergency medical space. He is a noteworthy leader who takes on challenging responsibilities leading corporate, medical, and charity flights and missions specializing in organ transplants. As a volunteer paramedic, Sim's passion for facilitating surgical teams and harvested organs safely and efficiently to hospitals for procedures was born out of the atrocities of 9-11. A very close friend of Sim's was a philanthropist who had his own jet and outfitted it with a stretcher and oxygen - and sent Sim on missions. This same friend was near ground zero on 9-11 and was struck with cancer. Before he passed away, he urged Sim to carry on his dedication. Sim is surging forward with this endeavor in his memory. Sim's own experience driving an ambulance into ground zero on 9-11 has further fueled his mission for saving lives. He is on the official list of first responders and fortunately has not experienced any health issues thus far. Sim is a devoted volunteer who contributes towards numerous well-known organizations such as Chai Lifeline's Camp Simcha, United Hatzalah of Israel, The Special Children's Center, Birthright Israel, and providing Hatzolah EMS, in-flight medical support to children with cancer and disabilities, free of charge. ParaFlight EMS and Aviation personifies his lifelong mission of "changing the world, one organ at a time." For more, visit https://www.paraflight.aero.
1. Roland Albrecht, 1,2 Jürgen Knapp,3 Lorenz Theiler,2,3 Marcus Eder,2 and Urs Pietsch 1, "Transport of COVID-19 and other highly contagious patients by helicopter and fixed-wing air ambulance: a narrative review and experience of the Swiss air rescue Rega", Scand J Trauma Resusc Emerg Med, Published online 2020 May 14, 2020, doi: 10.1186/s13049-020-00734-9 ncbi.nlm.nih.gov/pmc/articles/PMC7222521/
2. "Organ transplants make a turnaround from COVID-19 decline …", American Heart Association News, heart.org, June 18, 2020, Givertz, Dr. Michael, professor of medicine, Harvard Medical School, Drazner, Dr. Mark, clinical chief of cardiology, UT-Southwestern Medical Center in Dallas.
3. Rachel Ginsberg, "The Reprieve: United Hatzalah Boss Survives VOVID-10 Battle; 07 May 2020; EMS World; emsworld.com/article/1224317/reprieve-united-hatzalah-boss-survives-covid-19-battle-ems-emt-paramedic-israel-coronavirus
4. heart.org/en/news/2020/06/18/organ-transplants-make-a-turnaround-from-covid-19-decline Steep Decline in Organ Transplants Amid COVID-19 Outbreak", pennmedicine.org, May 12, 2020, pennmedicine.org/news/news-releases/2020/may/steep-decline-in-organ-transplants-amid-covid19-outbreak
5. United Network of Organ Sharing, Transplant Trends: More Transplants Than Ever, unos.org/data/transplant-trends/.