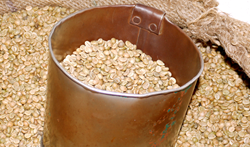 it's certified organic, Non-GMO, chemical free water extracted and most of all, easy to use in drink formulations - Jackson Zapp AFS
Austin, TX (PRWEB) June 04, 2014
The demand for natural ingredients in the booming energy drink market is leading manufacturers to dig deep to uncover the new new thing. At the BevNet LIVE conference recently, several high profile companies found themselves lining up early to get the scoop on PurCaf, a botanically-sourced, certified organic and non-GMO caffeine ingredient that debuted at the event from functional ingredient leader Applied Food Sciences.
"We're seeing a lot of interest in organic caffeine for energy drinks," says Jackson Zapp at Applied Food Sciences. "Companies are coming to us because organic caffeine is hard to source and manufacture, since most energy ingredients are synthetic using chemical extraction. PurCaf is manufactured using completely sustainable practices from sourcing to manufacturing, it's certified organic, Non-GMO, chemical free water extracted and most of all, easy to use in drink formulations".
In addition, and perhaps most importantly setting PurCaf apart from other natural caffeine ingredients, is its caffeine content by volume. Companies that use organic and natural energy ingredients often find them hard to use in formulations due in part to their low caffeine content. For example, most extracts from green teas or guarana have a range of 30-40% caffeine, and even most green coffee extracts contain less than 40% caffeine. Therefore, when formulating, twice the amount of the ingredient is required, potentially resulting in beverages that have unpalatable textures. PurCaf comes in at 92% caffeine, netting pure, simple organic caffeine.
On the whole, the continued growth in the organic category as well as increasing interest in functional beverage manufacturers in organic ingredients, points to a rosy future for PurCaf. According to Kantar World Panel, organic beverages are showing exceptional growth across all channels, up 28% in conventional supermarkets and up 17.1% in natural markets since 2013. Sales of organic beverages have grown 61% over the past two years. The energy drink market shows no signs of slowing down. According to Packaged Pacts, energy drinks and shots made up the most dynamic market from 2008-2012, growing 60%, and in 2012 total U.S. sales for energy drinks and shots was worth more than $12.5 billion.
PurCaf is made from coffee beans that are 100% certified organic through Eco-Cert and USDA, non-GMO, and is a 92% pure caffeine extract derived from water-extracted green coffee beans.
In general, natural sources of plant based caffeine can have balancing effects to neutralize the negative side effects (jitters and nervousness) typical of synthetic sources because they are combined with other compounds from the plant2,3.
PurCaf is easy to formulate, water soluble and clear in solution, providing it as an optimum choice for beverage formulators.
PurCaf will be exhibiting at INTERBEV in Chicago on June 10-13, 2014, at Booth # 4818.
# # #
Austin, Texas-based Applied Food Sciences specializes in developing ingredients and technology for nutritional products. For more information, visit http://www.appliedfoods.com or call 1-800-345-9966.
2 Hodgson, A. et al, The Metabolic and Performance Effects of Caffeine Compared to Coffee during Endurance Exercise PlosOne, V8, I4, e59561, 2013
3 Graham, T.E et al, Metabolic and exercise endurance effects of coffee and caffeine ingestion. J Appl Physiol (1985). 1998 Sep; 85(3):883-9.