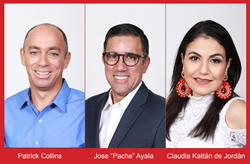 Pat, Pache and Claudia have been strategic leaders for the logistics group for many years. These latest promotions are testament to their dedication to Crowley, our customers and our industry partners.
JACKSONVILLE, Fla. (PRWEB) January 29, 2019
To continue providing customers with industry-leading integrated supply chain solutions, Crowley Logistics announced today several personnel moves that further position the company for exceptional customer service and growth.
Patrick Collins has been promoted to vice president of terminal operations; Jose "Pache" Ayala has been named vice president of Caribbean logistics, and Claudia Kattán de Jordán has been appointed vice president of Central America logistics. All three executives report to Steve Collar, senior vice president and general manager, Crowley Logistics.
"Pat, Pache and Claudia have been strategic leaders for the logistics group for many years," said Collar. "These latest promotions are testament to their dedication to Crowley, our customers and our industry partners. We are confident that in their new, expanded roles, they will continue to model our core values of safety, integrity and high performance while positioning our supply chain services for growth."
Collins is responsible for the overall operations and strategy for the company's domestic cargo terminals, including Port Everglades and Jacksonville, Fla.; Eddystone, Penn.; Gulfport, Miss.; Wilmington, N.C.; San Juan, Puerto Rico; and those in the U.S. Virgin Islands. Collins will remain based in Port Everglades. Since 2014, Collins has overseen cargo operations for Crowley's terminal in Port Everglades as general manager – after previously being cargo operations manager. In total, he has nearly 20 years of experience in the maritime sector. He earned his bachelor's degree from Loyola University and graduated from Officer Candidate School of the U.S. Coast Guard Academy, after which, he served as executive, deck watch and training officer for USCG cutters Padre and Venturous.
Ayala now has expanded responsibility for coordinating sales, marketing and operational shipping activities throughout Crowley's footprint in Puerto Rico, Dominican Republic, and the Caribbean islands. Previously head of Crowley's services in Puerto Rico, Ayala will support local sales management, and work to enhance Crowley's service offerings in the entire Caribbean region. He will be the primary company representative when dealing with local ports authorities, government officials, shipping associations and major customer accounts in the region. He will remain based in Puerto Rico. A 2013 recipient of the Thomas Crowley Award, the company's highest honor, Ayala began working with Crowley in the late 1980s as a Teamsters union laborer. He rose within the union ranks into leadership positions and eventually became the head of the Teamsters in Puerto Rico. In 2007, Ayala joined Crowley's administrative team, serving in labor relations, then manager of San Juan terminal operation before being promoted in 2012 to vice president, Puerto Rico – a position he held until this promotion.
Kattán de Jordán is taking on expanded responsibility for all of Crowley's supply chain services throughout Central America. She is overseeing the region's sales, marketing and operations activities; development of policies and procedures; operating results; annual revenue and capital budgets; contractor and service provider agreements and developing business relationships. In addition to operations, Kattán is responsible for the profit and loss of Crowley's Central American northern and southern zones, U.S Gulf and Wilmington, N.C., services, along with all regional warehousing, trucking, customs brokerage and Non-Vessel Operating Common Carrier (NVOCC) services. Kattán, who is based in Honduras, began her career with Crowley in 1989 and has held various positions including customer service representative, sales coordinator, sales executive, sales manager, general manager and most recently vice president, liner services. She is a 2005 recipient of the Thomas Crowley Award and a graduate of the Technological University of Honduras.
These promotions follow the company's recent integration of its liner services and logistics business lines into a singular, highly focused logistics organization providing customers with end-to-end services, including ocean, land and air transportation; commercial transportation management; supply chain and distribution services; freight forwarding and warehousing; and cargo risk and customs compliance.
Jacksonville-based Crowley Holdings Inc., a holding company of the 127-year-old Crowley Maritime Corporation, is a privately held family and employee-owned company that provides marine solutions, energy and logistics services in domestic and international markets. Crowley operates under four business units: Crowley Logistics, a singular ocean liner and logistics supply chain division; Crowley Shipping, which encompasses ownership, operations and management of conventional and dual fuel (LNG) vessels, including tankers, container ships, multipurpose, tugboats and barges; Crowley Fuels, a fuel transportation, distribution and sales division that also provides liquefied natural gas (LNG) and related services; and Crowley Solutions, which focuses on government services, including vessel management for government agencies, as well as engineering, project management, naval architecture through its subsidiary Jensen Maritime, and marine salvage and emergency response through its 50 percent ownership in Ardent Global. Additional information about Crowley, its subsidiaries and business units may be found at http://www.crowley.com.