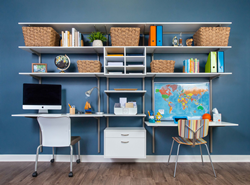 "92% of homeowners have made changes to their homes since the beginning of stay-at-home orders," according to the America at Home Survey.
CINCINNATI (PRWEB) October 08, 2020
92% of homeowners have made changes to their homes since the beginning of stay-at-home orders, according to the America at Home Survey. Understanding how our "new normal" shapes what homebuyers want will give you an edge as new single family homes sales soar. Get the inside scoop on what the future of homebuilding looks like from the experts at Organized Living.
Workspaces.
Having a dedicated workspace or a home office is now a new must-have as the need for working and educating at home has elevated. In fact, according to Zillow, 31% of homeowners would consider moving in order to live in a home with a dedicated office space. Provide your homebuyers with the freedomRail adjustable system to create the perfect workstation or home office that can easily be moved or adjusted to meet their needs and changing lifestyle.
Multifunctional Space.
Homebuyers are on the hunt for homes that offer flex spaces for versatility and convenience. Homes are functioning different than they once were and homebuyers are seeking multifunctional spaces to accommodate their needs. Builders have the opportunity to rework floorplans to create multifunctional spaces in the homes they build to provide their homebuyers a place to work and school during the day, but function as a hangout space in the evening.
Entryway.
Homebuyers are giving greater consideration to how they enter their homes – from removing shoes, to sanitizing hands to receiving packages. A drop zone or entryway is now a new must-have as homebuyers want to keep the home safe and clean. Incorporating multiple drop zones at all home entry points provides for sanitary package delivery as well as clean spaces to transition from outside to inside the home.
Outdoor improvement.
Homebuyers are itching for a larger outdoor space to satisfy their entertainment needs as they are at home more. Providing homebuyers an outdoor improvement will allow them more space for activities whether it's putting in a pool for the family, building a garden or just a space to hangout. Larger outdoor spaces allow homebuyers to not only enjoy time spent at home, but appreciate the moments they have with family.
Open Floor Plan.
The open floor concept is slowly transitioning as homebuyers need more privacy than ever. By sectioning off workzones in the home it lessens the amount of distractions and unwanted interruptions during phone and video calls, allowing homebuyers to get work done effectively. By creatively carving out workspaces in the home, builders are able to clearly define the separation between being at home and working at home.
Functional Storage Solutions.
As the home is becoming our new sanctuary and the place we spend most of our time, homebuyers need more storage and organization options. For a house to serve as a refuge as well as office, school, entertainment, and more, success begins and ends with functional organization systems. Organized Living provides aesthetically-pleasing, highly-functional, storage and organization options for every area of the home from pantry to office to garage.
Understanding what homebuyers want for these changing times is the key to capitalizing on skyrocketing new home sales. By incorporating these trends into the homes you build, you'll be able to satisfy your homebuyer's demands so they can live a healthy, safe, and sustainable lifestyle. To learn more about the products and programs Organized Living has in place to make storage and organization easy for builders, visit https://organizedliving.com/builders.
About Organized Living
Organized Living brings superior storage and organization to the world through strong products, strong people and strong brand, helping people organize their lives. From the closet to the kitchen to the garage, Organized Living offers high-quality, innovative storage and organization products that make everyday life easier and sells through professionally installing dealers across US and Canada, retailers and online retailers. http://www.OrganizedLiving.com.