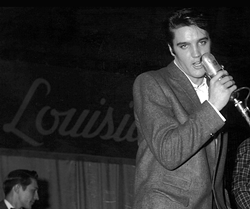 Elvis Presley inspired a whole generation, and beyond, forever changing the landscape of the music industry. He also had an amazing collection of cars, many of which had great stories behind them...being able to capture the man and his cars with my art has been an incredible highlight for my career.
LAS VEGAS (PRWEB) October 28, 2022
Kelly Telfer, a world-renowned artist, will unveil his latest fine art paintings inspired by Elvis Presley and his legendary vehicles at SEMA on November 2, 2022 from 1:00 p.m. to 2:00 p.m. at the Westgate Hotel Las Vegas in Ballroom B. The unveiling will feature the original RCA 44BX microphone used by the King of Rock during his Louisiana Hayride days. Danny Koker, host of the History Channel show Counting Cars, will be among the celebrities making an appearance during the unveiling and question-and-answer session. Besides attending, Koker is scheduled to bring his 1972 Stutz Bearcat, which was once owned by Elvis.
"Being able to paint such a celebrated recording artist has been an amazing experience for me," said Telfer. "Elvis Presley inspired a whole generation, and beyond, forever changing the landscape of the music industry. He also had an amazing collection of cars, many of which had great stories behind them. So being able to capture the man and his cars with my art has been an incredible highlight for my career."
"Elvis Presley was the cornerstone of Rockabilly music," said Jeffrey Cole, president of Destin Music Group and executive director of the Rockabilly Hall of Fame Museum. "He shaped his music into a unique sound and style all his own. Presley's Rockabilly style paved the way to Rock 'N' Roll, with legions of American artists and many musicians of what became known as "The British Invasion" crediting Elvis as their biggest single influence. Rockabilly is known for driving beats, fast cars, beautiful women and living life to the fullest. Kelly Telfer's artistic interpretation of Elvis and his cars is a fine tribute to the man and his music, and we of the Rockabilly Hall of Fame Museum are pleased to take part in the unveiling of his unique tribute to the King, Elvis Presley," said Cole.
The RCA 44BX microphone which will be in service at the unveiling was used in the studio at KWKH in Shreveport, Louisiana and on their historic Louisiana Hayride stage show that launched the careers of Hank Williams, Elvis, Johnny Cash, George Jones, Kitty Wells and a host of others. Elvis recorded demo tracks for RCA using this microphone; Jerry Lee Lewis auditioned for the Hayride with it; and Ike & Tina Turner laid down a few tracks as well.
Dale Hawkins used the mic for his recording of the smash hit Suzie Q, and John Fred & The Playboys recorded Judy In Disguise with it. Kitty Wells, Faron Young, Jim Reeves and others also recorded their radio shows and early million sellers using the microphone.
Hank Williams fans may know that he recorded his final song using the microphone, just three weeks before his death. Future movie star and Louisiana Governor Jimmie Davis was discovered by KWKH in 1928 while teaching social studies at a local college, rising to fame using this microphone for his daily broadcasts and the demo of his iconic hit You Are My Sunshine.
The Elvis image used in Kelly Telfer's original paintings was sourced from an image taken by Shreveport Journal photographer, Jack Barham on December 15, 1956 at the Hirsch Youth Building in Shreveport during Presley's final Louisiana Hayride show. This image was licensed for use by Telfer from the Louisiana Hayride archives administered by the Rockabilly Hall of Fame Museum.
Elvis premiered on the Hayride on October 16, 1954, just two weeks after failing to impress the audience at the Grand Ole Opry. The Rock 'N' Roll star called the Hayride home for the next eighteen months. The show was carried on the radio in 38 states and featured on Armed Forces Radio overseas and was key to launching Presley's career into the stratosphere.
"Sixty-eight years ago, a nineteen-year-old Elvis Presley was introduced to radio listeners worldwide from the stage of the Louisiana Hayride in Shreveport, Louisiana," said Joey Kent, VP and curator of the Rockabilly Hall of Fame Museum and the owner of the Louisiana Hayride archives.
"Over the next eighteen months, he honed his craft, feeding off the energy he found in the audience, and learning how to give back what they wanted from him."
The vehicles used in Telfer's paintings are Presley's 1956 Purple Cadillac, 1971 Stutz Bearcat, 1971 Yellow De Tomaso Pantera, and his 1955 Pink Cadillac. Every car in the paintings has a great story behind it, with the purple Cadillac coming into Elvis' possession after stopping by a dealer and refusing to buy a plain white one and smashing grapes on the car demanding to get one in that specific purple grape color.
The '71 Bearcat prototype was the very first car Stutz ever sold, with a 1976 press release from the company stating, "The only car Elvis personally drives." As for the Pantera, which he bought for his girlfriend at the time, the story goes that a frustrated Elvis shot at it, after it would not start, with a bullet going through the floor panel. The 1955 Pink Cadillac Fleetwood Series 60 was Elvis' first ever Cadillac.
"Kelly Telfer is the perfect motorsports artist to capture the Presley love affair with cars, and we believe his choice of an Elvis image from his rockabilly days on the Louisiana Hayride shows the future King of Rock 'N' Roll on the fast track straight to the top," said Kent. "By the late 1960s, Colonel Tom Parker had sidelined Elvis into movies, taking Presley away from his Rockabilly roots. Seeking a renewal of his spirit, a leather-clad Elvis gave his all in the now-famous "'68 Comeback Special". Sixty-eight years after Rockabilly was introduced to the world from the Hayride stage, it is now poised for its own 68 Year Comeback. Thank you, Kelly Telfer, for helping kick off this all-important anniversary of Rockabilly music and helping us share its legacy with future generations."
"Elvis' love affair with automobiles starts from his Mississippi upbringing when he was young and grew over time, just like his music career. The Rockabilly Hall of Fame Museum believes that Kelly Telfer will be the hit of the 2022 SEMA show, linking Presley's two love affairs, painted in Kelly's first ever original Rockabilly artwork," said Charles McPeak, advisory board member of the Rockabilly Hall of Fame Museum.
"I am so grateful to Joey Kent and Jeffrey Cole for trusting me to bring my vision to life using irreplaceable pieces from the Rockabilly Hall of Fame collection. I'd also like to thank Charles McPeak for his help in making it all happen," said Telfer.
Access to this event does not require a SEMA event pass. The artist will also be at SEMA during the entire run of the event in booth #10325. SEMA attendees will be able to view the Elvis paintings there after the unveiling and purchase prints.
Passion, speed, and color dominate the artwork of Kelly Telfer, motorsports enthusiast and artist.
Although best known for his fast-moving automotive paintings and posters, Telfer's art encompasses more than machines. He captures the people and the history of racing and car collecting in his most celebrated paintings. In March of 2022, Kelly's portrait of Mario Andretti and his history in racing sold through RM Sotheby's for $138,000, which we are told is a record for the work of a living motorsports artist at auction. All proceeds were donated to charity. His portraits of Butzi Porsche, Wendell Scott, George Follmer and Parnelli Jones have also earned critical acclaim. And, he's excited to have been chosen by the Rockabilly Hall of Fame Museum to do a series of paintings of Elvis Presley and his iconic collection of cars.
In 2022, Kelly Telfer was Official Artist in for the WeatherTech Raceway Rolex Motorsports Reunion, the Hyundai Monterey Sports Car Championship IMSA race, the Porsche Parade, the Porsche Club of America Werks Reunion, and the inaugural St Louis NASCAR Race. Telfer's art is on permanent exhibit at The Speedway Motors Museum of American Speed, in Lincoln, NE, The AACA Museum in Hershey, PA and his art is available at the Petersen Automotive Museum in Los Angeles, and the LeMay America's Car Museum in Tacoma, WA.
A third-generation Californian, Kelly and his spouse, Beth, live in Sonora, California…along with Kelly's "baby," an original 1968 Bahama yellow Porsche 911, named Bahama Mama.
Kelly Telfer is accepting commissions for original art paintings and limited edition Giclee prints, event posters and programs, as well as other creative opportunities For more information, original art, fine art prints and more: http://www.telferdesign.com