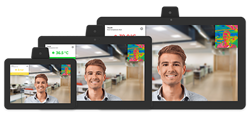 "We are excited to help our community and country as it opens up. TempCheck creates a safe, fever-free environment while providing peace of mind for associates and guests." -Wayne J. Hilmer, CEO Touchrate
ORLANDO, Fla. (PRWEB) May 15, 2020
As businesses prepare to reopen, preventative measures must be put in place to help mitigate the spread of Coronavirus. There is a need to combat the spread of the virus in a way that is not intrusive or off-putting to both employees and guests. This is where Touchrate hopes to help with their TempCheck Sentinel and TempCheckplus Sentry no-contact infrared temperature sensing systems.
The TempCheck Sentinel offers a quick and easy way to check the temperature of any person passing by the unit. TempCheckplus Sentry expands on temperature checks by providing facial recognition for access to designated areas, data collection, and other customizable features. The devices are accurate to +/- .05 °C, which is equivalent to +/- .1 °F. For example, if someone is scanned as having a temperature of 98.6°F their actual body temperature can lie between 98.5°F and 98.7°F. For reference, the U.S. National Library of Medicine states that Body temperature norms range from 97°F (36.1°C) to 99°F (37.2°C). A variance of +/- .1 °F is small enough to not impact a safe reading.
TempCheck Devices are already being deployed in locations around Florida and can screen people in many areas such as hospitals, stores, gyms, schools, offices, banks, theaters, law firms, restaurants, parks, entertainment and sports venues and retirement living facilities or wherever people gather.
"We are excited to help our community and country as it opens up. TempCheck creates a safe, fever-free environment while providing peace of mind for associates and guests." - Wayne J. Hilmer, CEO Touchrate
Established in 2008, Touchrate LLC is a technology company located in Orlando Florida, designing, creating, and deploying interactive technology solutions for the retail, healthcare, and hospitality industries.
If you would like to learn more about the TempCheck systems please visit their website at Touchrate.com/TempCheck or email Touchrate at info@touchrate.com.