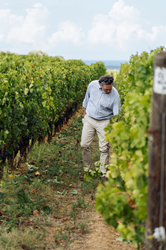 "A vintage that was always on the edge, but where in the end various weather events balanced out the negative effects, enabling the winemakers to find a nuanced expression of the finest quality through mental nimbleness and resilience." - Axel Heinz, Ornellaia Estate Director
NEW YORK (PRWEB) November 29, 2022
Ornellaia, one of the world's iconic wine estates, has concluded another successful vintage despite unusual weather contradictions that tested its highly skilled team. Axel Heinz, Ornellaia's Estate Director, describes the vintage as a continual challenge that required nimble winemaking and a lucky string of weather events closer to harvest. "This vintage was always on the edge, with disaster always on the horizon, but various weather events balanced out the negative effects, enabling the winemakers to find a nuanced expression of the finest quality through mental nimbleness and resilience."
The 2022 harvest began with normal winter temperatures and a cool spring with slightly delayed bud break on the vines. The conditions flipped in May though, with temperatures exceeding 30°C (86°F) and very little rain for 75 consecutive days, testing the growth, flowering and veraison of the vines.
The harvest started early on August 9th with Sauvignon Blanc, but was immediately interrupted by expected summer storms that further disrupted the distinguished conditions thus far. The abundant rainfall instigated a turning point, eliminating the water stress and reactivating the ripening process. Finally, a cool and sunny September brought near-perfect conditions to ripen the Cabernet Franc and Cabernet Sauvignon.
"The hallmark of a hot vintage is clear in the wines," says Heinz. "The wines are ample and bodied, yet balanced by a beautiful acidity and precise aromas. "The Sauvignon Blanc shows its exotic side with tropical fruit aromas, while the Viognier and Vermentino display prolonged floral notes. Less concentrated than usual and struggling to free the skin content, the Merlot required longer static maceration to obtain an enjoyable density, doing away with rustic tannins. On the contrary, the Cabernets demonstrated deep and layered hues, even in the first few days of maceration, developing a traditional aromatic profile with signature notes of cassis for the Cabernet Sauvignon and spiced violet nuances for the Cabernet Franc," says Heinz. "The aromatic freshness is surprising, dotted with menthol and balsamic overtones, as well as plush tannins, all of which provide an exceptional basis for long, harmonious ageing."
Achieving high quality expression amid unusual weather contradictions required night harvesting the earliest white grapes in order to preserve the freshness and aromas during the harvest; refrigerated rooms to keep the temperature of the grapes low; and discarding dried grapes as well as ones that had remained green after veraison. Ornellaia also continued to experiment with amphorae alongside barriques and tonneaux.
Lastly, the blending portion, the final challenge of 2022: "The blending, when we will need to find the right balance between the various parts to express the many virtues that 2022 yielded to those who listened to nature with respect and dedication through the struggles," Heinz concludes.
***
About Ornellaia - http://www.ornellaia.com/en/
The name ORNELLAIA is synonymous of fine winemaking and an authentic expression of the beauty of Tuscany. The estate is situated along the Tuscan coast, a short distance from the medieval town of Bolgheri and its iconic cypress-lined approach. Ornellaia Bolgheri DOC Superiore and Ornellaia Bianco are the estate's top wines, ensued by the second vin Le Serre Nuove dell'Ornellaia, Le Volte dell'Ornellaia and the white Poggio alle Gazze dell'Ornellaia. In just over thirty years (the first vintage of Ornellaia was in 1985), the team's dedication, together with optimal geological characteristics and microclimate, has resulted in critical acclaim and public success within Italy and internationally.