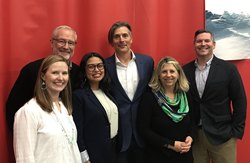 "Our focus was never just to teach. Our focus was to try and break the cycle of poverty that exists in this place."- Nick Cienski, Mission 14® Founder and CEO
VIRGINIA BEACH, Va. (PRWEB) April 04, 2019
Nick and Sandi Cienski, founders of the nonprofit organization, Mission 14®, provided 65 guests with an exclusive tour of Under Armour's Lighthouse Innovation Lab in Baltimore where Nick Cienski, Senior Creative Principal Special Projects, designs innovative athletic apparel for the company. Guests then learned how Mission 14® is providing impoverished families a way out of poverty through its own innovative sewing training center in Managua, Nicaragua.
The Cienskis were inspired to start Mission 14® after an ORPHANetwork mission trip with their church eight years ago. They were touched by ORPHANetwork's holistic programs that provide care for at-risk children in communities of abject poverty through the local Nicaraguan church. To provide a way to break the cycle of poverty for these children, Mission 14® started teaching a few mothers how to make and sew t-shirts to sell locally.
Nick Cienski shared how the nonprofit has evolved from a grassroots effort to a sewing school and training center staffed by Nicaraguan industry professionals, sourcing 150 jobs in the past three years. "Our focus was never just to teach; our focus was to try and break the cycle of poverty that exists in this place." Cienski continued, "For us it was always about jobs."
The Cienskis along with ORPHANetwork CEO, Dick Anderson, and COO, Ted Draper, inspired guests with videos and stories of Nicaraguan students whose lives have been changed through this collaborative partnership. Guests responded to the invitation to change the life trajectory of future students by donating $19,000 to provide additional training classes through Mission 14® to create more full-time jobs in 2019.
About ORPHANetwork
OPRHANetwork serves nearly 20,000 vulnerable and orphaned children in Nicaragua. Believing that the local church is the "Hope of the World," ORPHANetwork works through the local Nicaraguan church to break cycles of poverty through health, education and jobs.
About The Mission 14® Sewing Training Center
Mission 14® works with local Nicaraguan businesses as well as US owned factories, such as New Holland Apparel. These businesses believe in our training programs and assist with donating used commercial grade sewing machines, fabrics, cutting tables, and training for our leadership team. In addition, fabrics, trims and patterns have been donated by Baltimore's own sports clothing brand, Under Armour Inc.