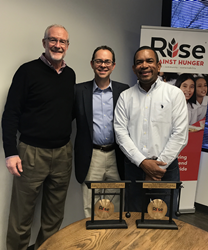 VIRGINIA BEACH, Va. (PRWEB) March 26, 2019
ORPHANetwork's CEO, Dick Anderson, and Country Director, Nicaragua, Eddy Morales, were recognized by the organization's partners at Rise Against Hunger for their strategic roles in the collaborative effort to end world hunger. By pairing Rise Against Hunger meals with ORPHANetwork's strategic development plan to break the cycle of poverty, the partnership has become sustainable and high impact, having delivered 19 million meals to Nicaragua's most vulnerable children.
Under Anderson and Morales' leadership, ORPHANetwork has grown alongside Rise Against Hunger, receiving its first container of meals in 2009 to feed 300 vulnerable children to nourishing nearly 20,000 on a daily basis. In addition to now receiving ten containers of meals annually, the partnership has yielded huge success in education and maternal health programs.
On March 14, CEO of Rise Against Hunger, Rod Brooks, hosted ORPHANetwork at his organization's corporate office to honor and award Anderson and Morales as 'Hunger Champions'. The award was designed to celebrate individuals who have made a significant impact on hunger as Rise Against Hunger celebrated its 20th anniversary. Brooks shared with his Raleigh, North Carolina staff that "ORPHANetwork was instrumental in the life of Rise Against Hunger" adding, "We recognize the partnership with that we have with ORPHANetwork is one of those relationships where we have grown together, we have supported one another and we have created a great impact together."
What makes Rise Against Hunger's relationship with Anderson and Morales unique is not only their commitment to excellence as a distribution partner, but their willingness to host staff, volunteers and donors in Nicaragua. Rise Against Hunger has taken more than 12 teams to Nicaragua to see firsthand the impact of nutritious meals and powerful partnerships like this one. Working at ORPHANetwork is not just a job for Anderson and Morales― it's their calling. They are committed to breaking cycles of poverty by addressing problems in Nicaraguan communities by investing in staff, local community leaders and the next generation.
About ORPHANetwork
OPRHANetwork serves nearly 20,000 vulnerable and orphaned children in Nicaragua. Believing that the local church is the "Hope of the World," ORPHANetwork works through the local Nicaraguan church to break cycles of poverty through health, education and jobs.
About Rise Against Hunger
Rise Against Hunger, an international hunger relief organization, aims to show the world that it is, in fact, possible to end hunger by the year 2030. With 28 U.S. locations and five international offices, the organization is committed to nourishing lives, providing emergency aid, empowering communities and growing the hunger movement. Rise Against Hunger has facilitated the packaging of more than 460 million meals distributed to countries around the world.