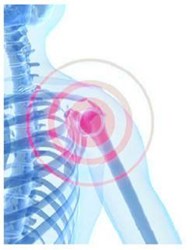 Aurora, CO (PRWEB) February 20, 2014
Colorado Orthopedic Consultants was recently accepted as one of the few centers in the United States that will conduct a clinical study for adhesive capsulitis, a condition more popularly known as frozen shoulder. The Aurora orthopedics practice and other participating organizations began research in December 2013.
Patients with a frozen shoulder feel pain and stiffness in the joint. They are unable to move the affected shoulder whether on their own or with another person's help. The causes of the condition have not yet been pinpointed, although they could be linked to injury or diseases like diabetes and hyper/hypothyroidism. Like other ailments and disorders affecting the musculoskeletal system, it could lead to debilitating conditions, if left unattended. Some cases can be treated through medications and non-surgical methods while others require the intervention of a qualified orthopedic surgeon who can perform arthroscopic surgery, among other procedures.
During the study, people suffering from this condition can approach Colorado Orthopedic Consultants to participate in the study researching procedures that are not yet readily available to the public. Clinical trials will be conducted by a research team composed of physicians, nurses, study coordinators, and other staff members. Participants with frozen shoulders will get to engage actively in their own health care while indirectly helping others through their participation in the study.
To learn more information about their services and to schedule an appointment, visit http://www.COCOrtho.com.
For media inquiries, please contact:
Colorado Orthopedic Consultants
401 W Hampden Pl Ste 220
Englewood, CO 80110
(303) 671-2149
http://www.cocortho.com
Colorado Orthopedic Consultants
1411 S Potomac Ste 400
Aurora, CO 80012
(303) 695-6060
http://www.cocortho.com