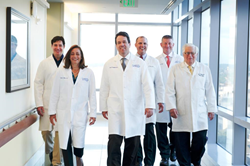 "This advanced technology...(enables) surgeons to more accurately position a patient's joint replacement. The result is a better, and longer-performing joint, as well as a faster recovery after surgery," said Dr. Marc Hungerford, Chief, Division of Orthopedics, Mercy Medical Center
BALTIMORE (PRWEB) August 08, 2018
Orthopedics & Joint Replacement at Mercy Medical Center now offers a new advanced minimally invasive surgical option for patients needing total knee replacement: MAKOplasty Total Knee Replacement Surgery using robotic technology.
According to Dr. Marc Hungerford, Chief of the Division of Orthopedics at Mercy, this knee replacement treatment option is designed to relieve the pain caused by joint degeneration due to osteoarthritis. With the new MAKOplasty system, Mercy can offer patients a personalized surgical experience tailored to their specific diagnosis and anatomy.
The process begins with a CT scan of the patient's knee joint which is used to generate a 3D virtual model of the patient's anatomy. This model is then uploaded on to the MAKOplasty system software and is used to create a pre-operative plan, specific to that patient.
Robotic technology improves accuracy, allows the surgeon to make adjustments for muscular and soft tissue alignment, and yields better outcomes for patients, Dr. Hungerford explained.
"This advanced technology transforms the way joint replacement surgery is performed, enabling surgeons to more accurately position a patient's joint replacement. The result is a better, and longer-performing joint, as well as a faster recovery after surgery," Dr. Hungerford said. "In addition, this state-of-the-art implant gives patients natural range of motion."
The MAKOplasty robotic-arm is guided by the surgeon to remove diseased bone and cartilage and then inserts the knee replacement. During the procedure, the surgeon can make any necessary adjustments while guiding the robotic-arm.
Recent research indicates there will be at least 3.5 million total knee replacements in the United States by 2030, with the demand for knee replacements growing even faster than the demand for hip replacements.
Named a "Best National Hospital in Orthopedics" by U.S. News and World Report, the surgeons of Orthopedics & Joint Replacement at Mercy are trained in the use of the MAKOplasty system, and can perform both total and partial knee replacement surgery.
"Our physician team includes top rated orthopedic surgeons, offering innovative hip replacement and knee preservation, replacement and treatment options as well as other treatments for a wide variety of orthopedic and sports medicine related issues," Dr. Hungerford said.
Founded in 1874 by the Sisters of Mercy, Mercy Medical Center is a university-affiliated Catholic hospital with a national reputation in orthopedics and women's health. For more information, visit Mercy online at http://www.mdmercy.com, MDMercyMedia on Facebook and Twitter, or call 1-800-M.D.-Mercy.