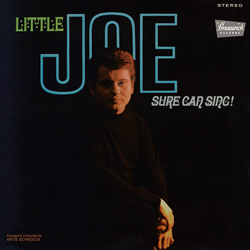 What could have been a mere curiosity from the distant past is actually a lost classic begging to be discovered by new generations of music lovers
NEW YORK (PRWEB) November 09, 2021
Legendary Soul Label Brunswick Records Set To Release 'Little Joe Sure Can Sing!' –An Up Till Now Impossible To Find Album Recorded In 1968 By Future Tripple Oscar-Winning Film Legend Joe Pesci
Recorded Under the Moniker "Joe Ritchie," the Vintage Jazz-Oriented Collection – Available For Streaming and Purchase November 2021 Features Inspired Versions Of Classics By The Beatles, Bee Gees, Mel Torme
Decades before Joe Pesci won an Oscar for "Goodfellas," cracked us up in "Home Alone" and the "Lethal Weapon" films and made "the two yoots" – uttered by his character Vincent Gambini in the 1992 hit comedy "My Cousin Vinny" – an essential pop-culture catchphrase, the actor was a budding recording artist on Brunswick Records.
Continuing its tradition of re-issuing must-hear blasts from its culturally impactful past, the classic indie R&B label is releasing Little Joe Sure Can Sing!, Pesci's long out of print and up till now nearly impossible to find album, to all major streaming and retail outlets. Originally released on vinyl in 1968, the collection will be available November, 2021 on Apple Music, iTunes, Spotify, Pandora, Deezer, YouTube, Amazon, Napster, and more.
Recorded under the moniker "Joe Ritchie," the jazz, pop, and blues-influenced 10-track collection feature unique renditions of three Beatles classics ("Got To Get You Into My Life," "Fixing a Hole," "The Fool On the Hill"), three vintage late 60's Bee Gees gems (including "To Love Somebody"), Mel Torme's "Born to be Blue," Eddie Jones' "Let's Stop Fooling Ourselves" and "Stop and Say Hello," originally recorded by Pesci's childhood friend and fellow "Jersey Boy" Frankie Valli.
"Before Joe Pesci became a film legend, he was a singer," says Rich Kamerman, COO/Label Manager of Brunswick Records, whose iconic artists and hits included Jackie Wilson ("Your Love Keeps Lifting Me) Higher and Higher") and the Chi-Lites ("Have You Seen Her"). "Unlike the soul and R&B that Brunswick was best known for, the artist billed as 'Joe Ritchie' delivered inspired versions of several early Bee Gees classics, paid tribute to the Lennon-McCartney songbook, and got bluesy on a Mel Torme gem, among the ten tracks on Little Joe Sure Can Sing!
"What could have been a mere curiosity from the distant past is actually a lost classic begging to be discovered by new generations of music lovers," he adds. "Original vinyl copies continue to be sought-after collectibles, but now everyone can enjoy the album on their favorite streaming and download sites."
Brunswick CEO Paul Tarnopol – son of the late Nat Tarnopol, who was President of the label during its 60's-70's heyday – adds that the original release of the "Joe Ritchie" album was a bit of a mystery. "Between 1960 and 1970," he says, "Nat had transformed Brunswick from a label best known for Lawrence Welk and Brenda Lee records into an R&B powerhouse with artists like Little Richard, Jackie Wilson, Lavern Baker, Gene Chandler, the Young-Holt Unlimited and, the Chi-Lites. The 'Little Joe' album was released right in the middle of this renaissance.
"Since Nat passed away before 'Goodfellas,' 'My Cousin Vinny' and 'JFK' made Joe Pesci a triple Oscar-winning superstar, he was never asked why he released the Pesci album on a label with a roster of entirely black artists."
Little Joe Sure Can Sing! makes a unique cameo appearance in the new film "The Many Saints of Newark," a prequel to the famed HBO series "The Sopranos." Ray Liotta's character is a jazz junkie whose nephew brings him albums to listen to behind bars. The cover of the Pesci album is seen among the others by jazz legends like Miles Davis.
Though officially "retired" from acting, Pesci has appeared in several films throughout the 2000s, most notably and recently, "The Irishman," which reunited him with Robert DeNiro and director Martin Scorsese, whom the actor had first collaborated with on "Raging Bull."
# # #
What People Are Saying About the 1968 re-release of "Little Joe Sure Can Sing"
Available November, 2021, on all popular streaming platforms
"I guarantee you will be amazed by the beautiful voice that Joe has. Joe Pesci singing the classics is fabulous!" Sharon Stone
"I love Joe Pesci! He's one of America's greatest actors who steals every scene, in every film he's in. I didn't know he was also a great singer. I have followed him throughout my life and hearing that he sings some of our songs on this album is such a great honor. We had met before at the hit factory in New York while we were working with Celine and he was a real gentleman. I can't wait to really hear this album and I look forward to talking to him about it. I wish you incredible success with this album. Once again, there's no way around it. I love Joe Pesci!!" Barry Gibb
"I love Joe Pesci as an actor and a great human... now I love him even more as a singer! Little Joe Sure Can Sing!!!!!!" Jane Rosenthal CEO Founder Tribeca Productions/Tribeca Enterprises
"Just when I thought I couldn't be more in awe of Joe Pesci, I find out he can sing. Wow." Ray Romano
"This album is a kick! Pleasant listening." David Chase, The Sopranos & The Many Saints of Newark
"Joe Pesci does a great job singing on this recording from my perspective. He joins an illustrious legacy of legendary New Jersey music artists." Tony Bongiovi, multi-platinum Record Producer, Engineer, Power Station Studios
"I am ecstatic to learn that this album is going to be released for streaming. I can only wish that whoever is unfamiliar with the many talents of Joe Pesci will now have a much broader understanding of how talented this man truly is. He is and will always be a tremendous influence on me." Joseph Russo, the actor that played Joe Pesci in Jersey Boys the musical, and the film
"Wow! This reissue of 'Little Joe Sure Can Sing' will help rewrite everything you think you know about Joe Pesci and possibly make one of your favourite actors even more endearing. This album, originally released in 1968, is an extraordinarily collectible record around the world with beat-up copies fetching hundreds of dollars apiece. This reissue illustrates why it's so in-demand; 'Little Joe Sure Can Sing' is wonderfully harmonic, lush and gives depth and perspective to a talent who, in an alternative universe, could be known for singing more than acting." Nate Goyer, host of The Vinyl Guide The podcast for fans and collectors of vinyl records!
Interact with Brunswick Records
https://www.facebook.com/search/top?q=brunswick%20records
https://twitter.com/BrunswickRecor1
https://www.instagram.com/brunswickrecords/