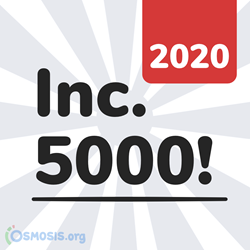 "I am incredibly proud of our team for our record and diversified growth over the last few years. However, I'm even more proud of them for their tireless dedication to our shared vision of creating a more caring world by developing the most caring people," said Shiv Gaglani, Osmosis.org cofounder
NEW YORK (PRWEB) August 13, 2020
Inc. magazine announced that Osmosis.org, a leading health education platform that empowers millions of clinicians and caregivers worldwide, is No. 1095 on its annual Inc. 5000 list, the most prestigious ranking of the nation's fastest-growing private companies. The list represents a unique look at the most successful companies within the economy's most dynamic segment—independent small businesses. Intuit, Zappos, Under Armour, Microsoft, Patagonia, and many other well-known names gained their first national exposure as honorees on the Inc. 5000. Osmosis.org has experienced massive growth, notably in the last 6 months, and has earned 417.29% revenue growth over the last three years.
"I am incredibly proud of our team for our record and diversified growth over the last few years. However, I'm even more proud of them for their tireless dedication to our shared vision of creating a more caring world by developing the most caring people," said Shiv Gaglani, Osmosis.org co-founder and CEO. "Due to strong partnerships with leading educational and health organizations and strategic initiatives such as our efforts in healthcare workforce development to 'Raise the Line' especially during COVID-19, we have rapidly expanded our impact to millions of healthcare professionals, students, and patients worldwide so they have the knowledge they need to care for others and themselves."
Along with record growth and numerous strategic partnerships in 2020, Osmosis was recently recognized for its commitment to its employees and culture. Last month, Comparably, a leading workplace culture and compensation monitoring site, named Osmosis CEO, Shiv Gaglani, among the Best CEOs for Diversity and Best CEOs for Women. Osmosis was also listed among the Best Leadership Teams 2020 and the Best Companies for Professional Development by Comparably.
Osmosis.org is a health education platform that empowers millions of clinicians and caregivers with the best learning experience possible. As pioneers in medical education technology, Osmosis takes learning beyond textbooks and lectures by offering online educational video content that's simple, engaging, and informative. Osmosis.org has a library of over 1,600+ videos covering pathology, physiology, pharmacology, and clinical reasoning complete with questions, flashcards, and notes. Osmosis has an engaged audience of more than one million active learners made up of current and future health professionals, as well as a YouTube channel with over 1.5 million learners worldwide. For more information, visit Osmosis.org.