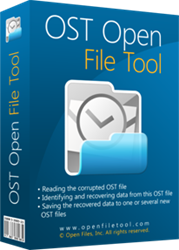 the fastest and the most accurate solution for opening damaged OST data files
San Diego, CA (PRWEB) August 09, 2013
OpenFileTool http://www.openfiletool.com, a recognized expert in the area of data recovery and supplier of award-winning data recovery tools for the most common programs and files formats, gladly presents the fastest and the most accurate solution for opening damaged OST data files and converting them the PST format that can be opened in Outlook and used offline, without connecting to MS Exchange Server. The recovery core of this OST opener http://www.ost.openfiletool.com underwent a complete overhaul and now uses a combination of advanced algorithms to deliver the best performance and efficiency among its competitors. The wizard-driven interface of OST Open File Tool makes it possible for all users – novices and professionals alike – to complete data recovery of any scale by making just a few mouse clicks. Items extracted from OST files can be saved to a PST file or in the form of EML, MSG and VCF files on the user's hard drive http://www.openfiletool.com/products.html .
"OST file corruption is a common issue in corporate networks and admins are not always available for immediate help," explains Lead Developer at OpenFileTool. "OST Open File Tool turns OST to PST recovery into a real no-brainer. A few mouse clicks – and you are done, faster than you expected and with more data than you would expect to find in a badly damaged file. We hope that the advantages of our new product will be duly appreciated by our current and prospective customers."
The free demo version of OST Open File Tool is available for download on the official website of OpenFileTool. All files published on the site are thoroughly checked with major anti-virus tools and are 100% safe to download http://www.openfiletool.com/downloads.html .