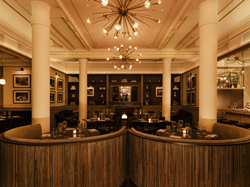 "Chef DeLucie's sophisticated and personal approach to coastal Italian food perfectly complements HGU New York's celebration of New York culture, history, and heritage in a creative and contemporary setting." -Michael Namer, CEO & Founder of Alfa Development
NEW YORK (PRWEB) October 24, 2019
Osteria Lumaca, Chef and Restaurateur John DeLucie's newest venture, has officially opened its doors. Located in HGU New York Hotel, a luxury boutique hotel in Manhattan's NoMad neighborhood, Lumaca is a seafood-driven, coastal Italian restaurant. Deriving its name from the Italian word for "snail," Lumaca embraces the Italian way of enjoying a meal by taking it slow and savoring the experience. The highly anticipated Lumaca is one of three installments in DeLucie's full culinary vision for the hotel, which also includes the HGU Rooftop Bar and The Lumaca Lounge.
"I'm thrilled to be working with my friends at HGU New York in opening Lumaca," says John DeLucie, formerly of The Lion and Waverly Inn, and most recently, Bedford & Co, Empire Diner, and Anslie in Brooklyn, NY. "Lumaca is an ode to my southern Italian heritage and I'm stoked to bring a taste of true Southern Italy to such a beautiful setting."
"The opening of Osteria Lumaca underscores HGU New York's commitment to providing unrivaled hospitality and culinary experiences to our guests," said Michael Namer, CEO & Founder of Alfa Development, HGU New York's owner. "Chef DeLucie's sophisticated and personal approach to coastal Italian food perfectly complements HGU New York's celebration of New York culture, history, and heritage in a creative and contemporary setting."
The Food
Lumaca's menu celebrates DeLucie's Southern Italian roots, offering dishes specific to the region of Puglia. Lumaca's starters include light fare such as Hamachi Crudo with citrus, black rice crisps, and black garlic aioli, Insalata Mista with buffalo mozzarella and champagne vinaigrette, and Calamari in Umido with tomato sauce, garlic, on sourdough crostini. Pasta dishes include the Linguine Bottarga with salt-cured fish roe, Spaghetti al Nero di Seppia with 'nduja and braised octopus, and Paccheri al Forno made with ricotta cheese and wild boar. Entree offerings, perfect for sharing or as a standalone dish, include dishes meant to delight such as Branzino al Cartoccio, Branzino cooked in parchment paper and served with farro, seasonal vegetables, and herbs.
The Decor
Lumaca is one of DeLucie's most intimate restaurant ventures yet, seating just 60 guests. Designed by architect Peter Guzy of Asfour Guzy Architects, plush banquettes provide a cozy vantage point for guests to enjoy the stunning original 1905 beaux arts plasterwork on the ceiling, marble-clad bar with custom glass and steel shelving. Gallery 151 has curated a custom art collection that adds to the restaurant's special ambiance. Lumaca boasts exclusive framed photography from storied American photographer, Anton Perich. The Lumaca Lounge also features photographic works by Sebastian Piras, Ralph Gibson, Lee Jaffe, Anna Friemoth's "Words for Women" series, Robert Weingarten, Marcia Reznick and a selection of four paintings from the "Girlfriends of the Rolling Stones" series by Liz Markus.
The Drinks
Driving the bar program at Lumaca is Beverage Director, Anthony Henriquez. Lumaca features a heavily influenced Italian wine list, and creative cocktails using fresh, seasonal ingredients.
Select cocktails include:

Pino Fresco: Gin, Lemon, Basil and Citrus Foam
Febbre di Lumaca: Ginger, Rye, Bordiga Aperitivo
Frutta dell'Autunno: Vodka, Pear Nectar, Cardamom Bitters, Lemon Juice
The Lumaca Lounge
The Lumaca Lounge is the new two-part cocktail bar and lounge located within HGU New York Hotel, with the bar section seating 20 guests and the lounge seating 30 guests. Operated in tandem with Lumaca the restaurant, The Lumaca Lounge will offer light bites pulled from Lumaca's main dining room menu, like Arancini with mascarpone, parmigiano reggiano and aioli, and Fried Mussels with Calabrian chili and caper aioli, as well as unique cocktails and Italian wines. The Lumaca Lounge is the ideal destination for hotel guests and city dwellers to enjoy cocktails, bites, and sit back and enjoy the nightly featured spinning DJ.
Lumaca is located within the HGU New York Hotel, at 34 E 32nd Street, New York NY 10016. The restaurant will be open starting October 21st from 4:00pm to 11:00pm Sunday through Thursday; and from 4:00pm to 12:00am Friday and Saturday. For more information, visit olmnyc.com.
For additional information about HGU New York Hotel, visit hgunyc.com.
About John DeLucie
For much of the past two decades, John DeLucie has been one of New York City's most popular chefs. Since his days at the Waverly Inn, John has been busy opening Bedford & Co. at the Renwick Hotel, re-opening the iconic Empire Diner, and launching the Ainslie in Brooklyn. Now, John is partnering with HGU New York to open the hotel's flagship Italian Osteria. Lumaca is John's opportunity to reconnect with his Southern Italian roots.
About HGU New York Hotel
Alfa Development's first hotel property, HGU New York Hotel, is situated in New York City's coveted NoMad district. The 90-room 4-star boutique hotel offers guests a truly authentic experience of New York City showcasing the history of the 1905 Beaux-Arts foundation, complemented by contemporary art and modern renovations and amenities. Located at 34 East 32nd Street between Park and Madison Avenues, the property opened in July 2016. HGU New York is a proud member of the Small Luxury Hotels of the World™ (SLH).