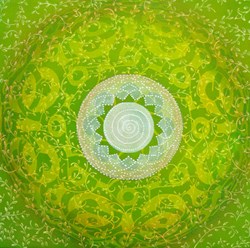 According to Connie Firestone "The Guardian series has been a spiritual journey for me and a life changing journey to create this artwork....I am filled with gratitude."
Riverdale, New York (PRWEB) January 30, 2014
Elisa Contemporary Art presents Other Worldly – Mandalas and Spirits. The exhibit opens February 15. Other Worldly is a journey through the visions of four contemporary female artists as they travel beyond the boundaries of this world into the larger universe.
The Mandala, the Sanskrit term for "Circle", is a spiritual and ritualistic symbol in both Hinduism and Buddhism. It is a shape and symbol that represents wholeness, and portrays a relationship to the infinite, the world that extends both beyond and within our bodies and minds. In Other Worldly, it is re-imagined by two of our featured artists, Amy Cheng and Paula Brett. Amy Cheng's "Mandala" series was inspired by six months spent in Brazil in 2010 on a Fulbright Fellowship. These abstract, mandala inspired paintings metaphorically emulate the vitality of life force. According to Amy, "When I contemplate the energy of life force I think of cells and cell divisions, the universe forming itself out of dust, seeds blooming into plants, all which tend to emerge jewel-like, diaphanous, seductive and playful." Paula Brett's series marries Candy with the Mandala to create the Candala. According to Paula, "My intention with these candalas is to arrange everyday sweets into a pattern which becomes scared, where delicious turns divine, the enticing now exquisite."
The Spirits, are represented by artists, Connie Firestone and Elaine Galen. The shadowy figures of Connie Firestone's Guardian series are barely visible through the veil that separates the worlds. Luminous, multi-layered, and elegantly simple at first glance, these paintings provide a glimpse into another dimension. According to Connie, "The Guardian series has been a spiritual journey for me and a life changing journey to create this artwork. To my own guardians and spirit guides, I am filled with gratitude, for I know they are with me at all times." The exhibit will also include nymph paintings, drawings and sculptures by Elaine Galen. Nymphs are generally regarded as divine spirits who animate nature, and are usually depicted as beautiful, young nubile maidens who love to dance and sing.
The featured artists in Other Worldly – Mandalas and Spirits are:
Paula Brett
Amy Cheng
Connie Firestone
Elaine Galen
What: Other Worldly – Mandalas and Spirits
When: February 15 through April 12, 2014
Special Event:
Closing Reception: Saturday, April 12 from 5-7pm
Where: Elisa Contemporary Art, 5622 Mosholu Avenue (near 256th Street), Riverdale NY 10471.
Hours: Saturday 11 am – 5 pm and by Appointment
Meet the Artists:
Paula Brett
From color-infused paintings to video self-portraits, Paula Brett's broad body of work incorporates various combinations of media dealing with ideas such as created identity, coincidence, ritual, and transitory spaces. She has exhibited work in New York City, Chicago, San Francisco, Budapest, Hungary; and Timiosoara, Romania.
Paula holds an MFA in Interdisciplinary Arts and Media from Columbia College Chicago. She currently resides in Tampa, Florida where she maintains a studio.
Amy Cheng
Amy Cheng's work is about the heart's longing to be connected to the largeness of life and the timeless arc of the universe. In her fluid and evocative style, Amy merges Western painting with the Eastern sensibilities of her heritage.
Born in Taiwan, raised in Brazil, and educated in the US, Amy has developed a painting vocabulary influenced by the interplay of divergent cultures – but with a fresh, contemporary view of our connectedness to the world.
The work of Amy Cheng has been widely exhibited throughout the US and internationally. She has created several Public Art projects: "Nucleic Life Formation" at Lambert-St. Louis International Airport; Four glass windows for the 25th Avenue Subway Station in Brooklyn; and she has just been commissioned by the Los Angeles County Metropolitan Transportation Authority to design a set of canopies for the L.A. Silver Line Slauson Station.
Connie Firestone
Connie Firestone has been painting and drawing for many years, but four years ago she began her "Guardian" series.
These pieces are begun on a black canvas and slowly built up with numerous layers of metallic and transparent glazes. When finished there may be up to seventy veils of transparent glazes. These reflective glazes reveal different colors and luminosity as the light plays across the surface of the canvas. The "Guardians" are a numbered series, never titled, because the artist believes that to title a painting tells the viewer what to think, and the interaction between the viewer and the painting is a very personal and often intense experience.
This work is shown only in Hawaii and New York, but is in collections both nationally and internationally.
Elaine Galen
Internationally-recognized as a painter, sculptor, and educator, Elaine Galen has created an intimate dialogue with nature, using the painting process to explore its mystical, surreal and the spiritual aspects. Though her early work began in the style of Abstract Expressionism, she quickly developed her own distinctive style and evocative visual language. Paint in her hands is fluid and swift, streaks of brilliant color alternating with open passages. Her work has been acclaimed by art critics and curators as "hauntingly beautiful" and "powerful" …"bordering on the visionary and surreal" and a "mystical realization of place".
Elaine Galen's artwork is in the permanent collections of the Neuberger Museum of Art; the James A. Michener Museum, Tampa Museum of Art; Brooklyn Museum; Musee Rigaud, France; Israel Museum, Jerusalem; Yale University, Smith College; Concordia College and at the Hudson Valley Hospital Gallery in Cortlandt Manor, NY in their special "Art for Healing" program. Her works are in numerous private collections. Corporate collections include AT&T, Pfizer, Metromedia, and Continental Grain.
About Elisa Contemporary Art
Elisa Contemporary Art represents a portfolio of both emerging and established contemporary artists, many of whom have work in the permanent collections of major museums and corporations.
For more information, visit the website at http://www.ElisaContemporaryArt.com. The Riverdale Gallery is located at 5622 Mosholu Avenue, Riverdale NY 10471.