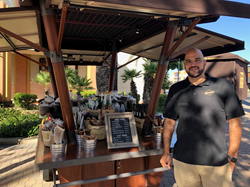 It's amazing how eating better food can make you feel so much better – it's true for both me and Tyson. Eating differently changed my life and I'm looking forward to helping people make that sort of change for their pets. - Othman Fadeel
BREA, Calif. (PRWEB) October 17, 2018
Othman Fadeel understands the importance of eating healthy, both for himself and when it comes to his cat, Tyson. Now he's excited to bring his nutrition-focused mindset to his new business, Pet Wants OC North.
Pet Wants' specially-crafted, proprietary pet food formulas are made in small batches with fresh, natural ingredients enhanced with vitamins and minerals for a complete and balanced diet in every bowl. Pet Wants OC North offers multiple blends of dog and cat food formulas as well as healing salve, calming balm, anti-itch spray, paw wax and more. Pet Wants OC North is currently mobile business with free, personal delivery to Brea, Yorba Linda, Diamond Bar, Anaheim Hills and the surrounding areas. Fadeel is looking to open a storefront in the coming months.
"My cat is prone to urinary tract infections, so he has to eat certain kinds of food. I also had a health scare recently that encouraged me to change the way I was eating. It's amazing how eating better food can make you feel so much better – it's true for both me and Tyson. Eating differently changed my life and I'm looking forward to helping people make that sort of change for their pets," Fadeel said.
Fadeel has always been passionate about pets. Prior to launching Pet Wants, he worked for a training company overseas, most recently as the general manager. Before that he spent seven years at PetSmart, often filling in as the impromptu foster parent for animals left at the door after hours. He has taken care of foster dogs, cats and parrots in addition to the pets he brought home as his own, including two tanks worth of fish, three bearded dragons, a cockatiel and two cats. When Fadeel decided he was ready for a change, he thought back to his time at PetSmart.
"Working with animals and helping people care for their pets was rewarding and fulfilling for me. I think, for many of us, pet nutrition is overlooked. We've had pets all our lives and, unless there's an obvious health issue, they've eaten whatever pet food you can get at the grocery store and they seem to be relatively healthy. But the truth is that, when you feed your pets better food, they have a better opportunity to live a healthier – and longer – life. Just like with people, if you eat fast food all the time, you'll survive, but you won't feel great and it will impact your health over time," Fadeel said. "I'm excited to be able to offer a better and more convenience pet food option with Pet Wants OC North."
Pet Wants has a 100-percent, money-back guarantee on the freshness and quality of the food and the company only sources the best salmon, chicken, lamb, brown rice and other ingredients available. There's no sugar added, no fillers and no animal by-products and Pet Wants never uses corn, wheat, soy or dyes, which makes the food great for animals with allergies.
To learn more about Pet Wants OC North, call (714)989-6544, email OFadeel(at)PetWants.com or http://www.petwantsocnorth.com.
About Pet Wants: Pet Wants was started by Michele Hobbs out of love for her pets and frustration. Veterinarians were unable to help relieve her dog's painful skin allergies. After doing much research, Michele discovered the national dog food brand she trusted was not fresh, not all natural, and lacked sufficient nutrition and – when pet food sits in warehouses and store shelves for months and months – it loses even more nutritional value. She was committed to developing a better solution for all dogs and cats. Their food is exclusively crafted. It's fresh, healthy and slow-cooked with no sugar added, no fillers and no animal by-products. They source only the best salmon, chicken, lamb, brown rice, and other ingredients. Fresh ingredients make for better food… and better health for pets. And since they never use corn, wheat, soy or dyes, the common pet health problems associated with these ingredients are no longer worries. Their fresh food is conveniently delivered to the customer within weeks of production, not months. Roughly half of Pet Wants products are sold through their store and half through their convenient, home-delivery program. You can learn more at http://www.PetWants.com.