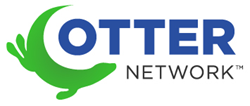 "We're excited to bring live television production capabilities to the mobile space." – Otter CEO Nick Tangborn
AUSTIN, Texas (PRWEB) November 17, 2020
Otter Network, creator of multi-cam video and livestreaming tools, announced today that it is launching Otter Channels, a streaming TV production platform that lets users program, create and broadcast a mix of pre-recorded videos and livestreams to online destinations. Otter is partnering at launch with Gimme Radio on their brand-new offering, Gimme TV.
Otter Channels is an affordable way for users to curate, schedule, program and create video content and broadcast it to websites, CDNs and social media simultaneously. Via web browser, users schedule programming blocks that include content from their video library as well as broadcast-quality livestreams. The 3-camera livestreams are produced and edited on the fly within the Otter Channels platform, using the company's patent-pending Otter Director™ livestreaming technology and up to three iPhones for filming.
Otter has partnered at launch with Gimme Radio on Gimme TV, with two new channels on the Gimme Metal and Gimme Country mobile apps. Fans can enjoy a full schedule of music videos, short form artist-created content, music documentaries and movies, livestreamed music performances, live artist interactions, and more.
"We're excited to bring live television production capabilities to the mobile space," said Otter CEO Nick Tangborn. "Otter Channels and our partnership with Gimme are natural extensions of our technology and its uses. Our 3-camera livestreaming tool, Otter Director HD, has been helping venues share live shows and support themselves during the pandemic. Now we're taking the next step with Otter Channels, and working with Gimme to bring fans music television for the 21st Century. It's clear that streaming is playing a growing role in people's ability to connect and keep their businesses thriving, and Otter is here to power the live experience for anyone who finds white-glove services out of reach but needs more than the shaky selfie."
Tyler Lenane, Gimme CEO said, "Right now there is this mad rush to become the livestreaming destination. But I think these other companies are missing the point that fans don't just want to watch a live performance in an empty club on their laptop…they want deeper access to artists and they want to experience it with other fans. Gimme learned how to build communities with online radio and we are going to make those communities even stronger with real video."
How Otter Channels Works
Otter Channels combines the power of broadcasting with livestreaming to give companies, venues, artists and influencers professional-quality TV programming that won't break the bank.

From your web browser, curate shows with your video content + live feeds
Schedule shows and episodes in the programming calendar
Broadcast to the online destinations of your choice
To include live interviews, shows and performances: Bring in footage from 3 iPhones, switch instantly between shots, and edit on the fly via the Otter Director™ HD tool
Enjoy resolution up to 1080p, pro-level audio, and camera settings that let users adjust brightness, contrast and more
Insert bumpers, commercials and PSAs
Monetize with subscriptions, pay-per-view, tip jars and sponsorships
About Otter Network
Otter Network was founded by Harry Friedman, a tech entrepreneur and former entertainment executive, and Nick Tangborn, a digital media veteran of Rhapsody, BitTorrent, CNET and the original Napster. Its mission is to make video production and livestreaming fast, easy and accessible for all, with a suite of patent-pending cloud-based multi-cam video production tools. Otter's products include the web-based video switching program Otter Director™ HD, Otter Camera™ HD for the iPhone, and the new Otter Channels, which allows users to program their own 24/7 OTT TV channels. Visit otter.network.
About Gimme Radio
Founded by digital music veterans from Apple Music, Google Play, Beats Music and Rhapsody, Gimme Radio is the ultimate music service for the true music fan. As the only online music service designed with the idea of community and to "serve the underserved," (also available for iOS and Android app), Gimme currently offers the unique musical experiences of Gimme Metal and Gimme Country (apps available for both iOS and Android) with upcoming plans to expand genres and launch new channels within genres. Gimme believes in the passion of the music community to give its listeners great programming - not algorithms. That's why every song played on Gimme is hand-selected by the musicians, music journalists, producers, labels and tastemakers that music fans already know and trust. Gimme is dedicated to building a community of fans within the service. On Gimme, listeners, DJs and artists can all engage in a conversation around the music - as it's playing.
##