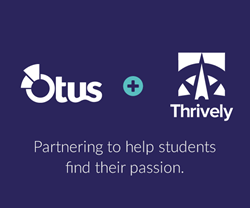 Research shows that students are 30 times more likely to be engaged when educators know their strengths.
Chicago, IL (PRWEB) August 17, 2017
Before teachers can teach and reach students, they need to know them. Otus, the creators of the first K-12 Student Performance Platform, today announced a strategic partnership with Thrively, the makers of the Thrively Strength Assessment, a self-assessment designed for K-12 students that helps them identify their personal strengths and interests and then explore them through playlists, courses, and activities designed to help them find their purpose, build skills, and create impact.
"Traditionally, K-12 school systems have put lots of energy into identifying student deficits and working to improve them," said Dr. Keith Westman, COO of Otus and a veteran K-12 educator. "Our partnership with Thrively allows our users to quickly identify student strengths, their interests, and help them identify their purpose. Every teacher wants that for every student."
The Otus Student Performance Platform is designed to unify school systems around a common teaching and learning platform removing the need for tools that are typically disconnected from one another: classroom/learning management systems, assessment management platforms, and data analytics systems. Thrively fills an interesting gap by supplementing all of the information teachers know about a student's school life, with their true purpose and passions.
Research shows that students are 30 times more likely to be engaged when educators know their strengths. The Thrively assessment becomes a great first day of school activity, and Thrively's self-directed courses, projects, and activities for students add to core curriculum during genius hour, passion projects, or advisory time that occurs throughout the remainder of the school year.
"We see every child as having genius and want to give them the opportunity to thrive," said Girish Venkat, founder and CEO of Thrively. "The partnership with Otus ensures that students, teachers, and parents all have the full set of tools to create the best environment possible for students to pursue their passions."
The partnership between Otus and Thrively is a match made in heaven. Today, students can complete the Thrively Strength Assessment directly within Otus. Teachers and family members can view results along with the students within Otus. This fall, Otus will be populated with curated activities that allow students to practice "their strengths" and also allow teachers to create cooperative learning groups using the strength data for students in their classes.
If you are an Otus user and wish to have your students take the Thrively Strength Assessment, visit: http://help.otus.com/classes/how-to-have-students-complete-the-thrively-assessment
About Otus
Otus is based in the West Loop neighborhood of Chicago at 1K Fulton, also home to Google's Chicago headquarters, and is dedicated to transforming how school systems use edtech to understand student performance. Otus provides the Otus Student Performance Platform, an integrated system with three primary components- a K-12 Classroom and Learning Management System, a K-12 Assessment Platform, and a K-12 Data Warehouse.
To learn more about the Otus Student Performance Platform, visit otus.com.
About Thrively
Thrively is a personalized learning platform for students, educators, and parents that develops the whole child. With Thrively, students develop self-awareness, find purpose, build skills, and create impact by solving real world problems. Students are at the center of their learning with their strengths, interests and aspirations serving as their guide.
To learn more about the Thrively Personalized Learning Platform, visit thrively.com