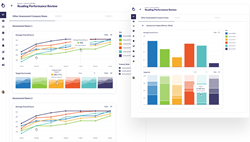 Every industry in the world has a way to measure performance in real-time, except for education.
CHICAGO (PRWEB) February 27, 2020
Otus, the fast-growing edtech company based in Chicago, announced today the release of two transformational data analytics tools: Historical Analytics and the Otus Data Consortium.
Historical Analytics is designed to give school and district leaders a simplified way to see trends in student academic performance, engagement and social-emotional development, and ultimately the impact these have on state and local assessments over time.
The Otus Data Consortium allows neighboring or like-minded school districts to share and compare their student performance data using their own criteria. In practice: a High School Principal can generate a report instantly to see all of the student data from every feeder middle school in minutes. This allows school leaders to develop better plans for incoming students, and eliminates countless face-to-face meetings with incomplete data.
"Every industry in the world has a way to measure performance in real-time, except for K12 education. This means that schools are being run by leaders who, by no fault of their own, are forced to make decisions using incomplete or stagnant data, like state-test scores," said Andy Bluhm, CEO and Co-Founder of Otus. "With Otus, school and district leaders can pair student performance on infrequent high-stakes and benchmark assessments with real-time classroom data on how students are performing each day. By providing a complete learning picture, administrators have the foundation to continuously improve educational outcomes more rapidly than ever before ."
The challenge to seeing data in real-time, is the ability to collect data in real-time. Otus has overcome this challenge by building dozens of teacher-friendly tools that seamlessly integrate into one platform. Otus encourages frequent use by teachers by eliminating the need to bounce from one disconnected app to another to complete all of tasks associated with their jobs. From grading assignments to texting families, all of these tasks live in one place: Otus.
As Otus is used by teachers and students, performance data is organized, aggregated and paired with legacy data (state tests, college entrance exams, benchmark assessments) and made available for an infinite number of analyses in real-time so that critical decisions can be made based on the best and most accurate information.
In addition to detailed data analysis (gender, student subgroup, ethnicity/race, extracurriculars, etc.) that individual school systems can practice with their own students, Otus also released the Otus Data Consortium tool which gives school districts the ability to share their data with one another for cross-district analysis and idea sharing.
"As K12 educators work to collaborate, the ability to compare a single district to similar school systems, or to schools anywhere in the world using a common set of data, is critical" said Dr. Keith Westman, COO of Otus.
"We have several school systems representing some of the largest and smallest districts in the country who were given early access to our analytics tools," said Christopher Hull, Chief Product Officer and Co-Founder. "The conversations that are happening in districts as a result of what the data is showing have been powerful. Teachers are seeing the results of their work in entirely new ways which have led to better conversations about student learning."
With this product release, current and future Otus clients have access to these powerful new analytics tools that shine a light, creating a clear path forward to maximize student learning.