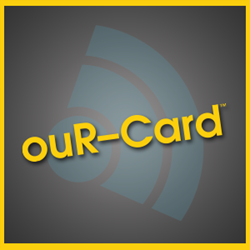 ouR-Card™ is Your Card™ "marketing media that will change lives" Tracy Lee Thomas
Virginia Beach, Virginia (PRWEB) October 10, 2013
Rev Marketing 2 U, Inc. of Virginia Beach, Virginia October 4, 2013 – In its Alpha and Beta testing, the introduced ouR-Card™ has been gaining more popularity with convenient business features like websites, invitations, special coupons, contact details, business details, email, text messaging, sharing etc. The ouR-Card™ is deemed useful to business owners and CEOs and is being marketed as an ideal present during bachelor parties, retirement parties, birthdays, baby showers and commemorative occasions.
One of the leading features of ouR-Card™ include increased connectivity as customers can connect with businesses through telephone, email, social media and websites. The ouR-Card™ is also being used by customers to share links of videos, soundtracks, industry specific content as well as landing pages for the business website. ouR-Card™ also acts as a virtual business card, carrying all important contact details including an accurate location on Google maps.
A representative from ouR-Card™, Frank Ford- Interactive Media Genius, stated that the product is not limited to business purposes and is being used as personal cards, digital coupons, business cards, birthday cards, thank you cards, anniversary cards, corporate event initiations, announcements, news, sports, sound cards, video cards and streaming of live videos.
Release Date
The final version of ouR-Card™ was released on October 4th, 2013 and is offering exciting pricing to the first 10,000 visitors that purchase and make ouR-Card™ their card.
About ouR-Card
ouR-Card™ is a simple, effective and easy to use digital business card that offers all essential features of a business card including contact details as well as additional features to connect businesses with clients. ouR-Card™ automatically connects a client to the business' location, email, social media as well as text message to open new lines of communication. ouR-Card™ is Your Card™ is the unique tagline utilized by the ouR-Card™ team. Shane Mitchell- Creative Director of Rev Marketing 2 U, Inc. states, "The interactive design of ouR-Card™ allows for dynamic flexibly and customization. This elevates the ability to utilize ouR-Card™ in a more personal, powerful and customizable manner with stronger usability function for the consumer."
Free Sample
Rev Marketing 2 U, Inc. launched their latest RM2U product, http://www.ouR-Card where ouR-Card™ is Your Card™. This digital card is a fall or Halloween card you can use for parties, business coupons, announcements, and an unlimited amount of means to communicate to others. Individuals and businesses can communicate there announcement to others via text, email, websites, social sites etc. They can email, text, call, land on a social sites, land on a website and much more. Rev Marketing 2 U, Inc. claims it takes only minutes to build and is a great tool for individuals and businesses alike. CEO and President of ouR-Card™ Tracy Thomas states, "ouR-Card™ will change the lives of businesses around the world with just a few minutes of build time on their part. It's about staying current with marketing and ouR-Card™ helps them stay a step ahead of their competition."
They are offering free sample of ouR-Card™ at http://our-card.com/order-halloween-coupon/
Promotional Code: OCHP25
Website:
http://www.ouR-Card.com