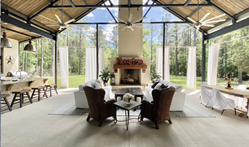 Stacee Lynn says, "One thing is for sure, you'll never look at a metal building the same way again!"
AUSTIN, Texas (PRWEB) October 16, 2020
Our Barndominium Life, and Stacee Lynn the "Barndominium Lady" celebrate its one-year anniversary on Instagram, today, Oct. 16th. Stacee Lynn is a powerful African-American businesswoman who started her business with a focus on sharing her love of design and passion for a great life with others. One year later and that hobby has turned into a business that has taken off with clients nationwide
Stacee is among the first in this hot trend as people buy land and move to the country. People want a custom home that is unique to them, affordable and low maintenance. She says, "one thing is for sure, you'll never look at a metal building the same way again!"
Barndominiums offer a number of advantages over traditional homes:

More affordable to build than conventional houses (Building materials have gone up 50% since March and doubled since last summer; less wood use in barndominiums makes them more affordable.)
Faster build times.
Easy to design your own floor plan.
Less maintenance.
Lower insurance costs and associated taxes.
Perfect for outdoor entertaining during this time of COVID (e.g., outdoor kitchens).
Since its launch, Our Barndominium Life has grown into a turnkey barndominium business, to include design, build and decor. Stacee Lynn, a self-taught designer, contractor, and décor aficionado, leads the creative team and is inspired by the opportunities Barndos present for comfortable, open, authentic living.
If you would like to set up an interview with Stacee Lynn or would like more information about barndominiums, please email media@crosswindpr.com.
Links
Website: ourbarndominiumlife.com
Instagram: @BarndominiumOur
Twitter: @Ourbarndominiumlife
About Our Barndominium Life
Our Barndominium Life & The Barndominium Company was started by Stacee Lynn to share her passion for Design, Construction & Décor. We all deserve a home that fits our family's many needs. We can help you with that. When I wake up in my Barndo and look around, I smile and say, "I get to live here." I want to share that feeling and excitement of living in a metal building with you.