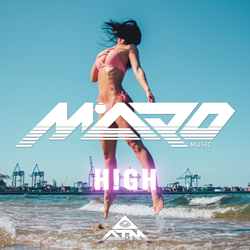 'High' is an uplifting, superbly pretty song that's joyful, and it's pure candy for the ears and soul. 'High' is Maro Music at his best, and this song shows Maro's wide spectrum.
NEW YORK (PRWEB) July 20, 2018
Smoldering. Lively. Captivating.
Spirited and brimming with fun, "High" feels as refreshing as getting drenched by a tropical waterfall on a hot summer's day. With the studio wizardry only a top-notch producer of his caliber can deliver, Maro Music puts his unique twist on what's to become the season's favorite new song. Subtle chords in minor-keys form just the right balance to the impossibly catchy female lead vocal, a vocal so evocative of Rihanna listeners will do a double-take. For fans of Maro Music who know him for his booty-shaking style of 'trap' – a sub-genre of electronic dance music – this wholehearted pop song may come as a surprise. With "High," Maro shows his skills at crafting a proper pop song, whether it's expected of him or not. "High" is an uplifting, superbly pretty song that's joyful, and it's pure candy for the ears and soul. "High" is Maro Music at his best, and this song shows Maro's wide spectrum.
About Maro Music
Maro Music, (real name, Marek Walaszek) is a prolific Polish DJ, producer and sound engineer. For more than 15 years, he has DJ'd at major nightlife venues throughout Europe and Asia. As a music producer and sound engineer, Maro Music has worked with some of the biggest names in hip-hop, reggae and electronic music, including Agallah, Dominique Young Unique, Wu-Tang Clan, Sizzla, Redman, Bang La Decks, DJ Kazzanova and others. Sought after by the biggest international brands – Coca-Cola, Absolut, Jaguar and BMW among them – to create music for their advertising campaigns, Maro Music has proven his skill in the recording studio time and time again. His studio and record label, Addicted To Music, maintains a heavy schedule crafting original productions and doing mixing and mastering work for internationally recognized artists. The studio regularly produces Polish artists for Warner Brothers as well as for the bigger Polish record labels. Marek Walaszek is in high demand on the lecture circuit, widely sought by universities to speak about music production. He has served as a judge for the Audio Engineering Society's modern music and sound engineering contest at the annual AES conventions in New York City, Berlin, Milan, Hungary and Warsaw. Maro Music has released music as the producer for MXF alongside DJ Frodo. Maro Music's solo mixes have landed him consistently in the "top 5" charts on Mixcloud. In 2011, Walaszek founded Bettermaker, an award-winning, critically acclaimed manufacturer of professional-grade mixing and mastering hardware and software built for professional musicians and audio engineers. Bettermaker is used by a who's who of studio professionals, including the GRAMMY-winning and GRAMMY-nominated mix engineers, Dave Pensado, Jimmy Douglass, Luca Pretolesi and Greg Wells. Artists like KO:YU and DJ Kazzanova also use Bettermaker products to achieve a supreme quality of sound.
Maro Music is quickly making waves in the U.S. and his radio broadcasts and guest mixes have been heard on DASH Radio, Mix247EDM and the syndicated radio mixshow, "Earthquake Mix." Maro Music has been featured in informative media interviews on EDMProd, ThatDrop | Complex Media, EDMSauce, EDMTunes, Music Promotions UK and several other media outlets. He will also be a featured keynote speaker on the 'producer's panel' at the annual DJ EXPO (Testa Communications) in Atlantic City, NJ, at Harrah's in August, 2018.
Listen to Maro Music's "High," here: https://addicted-to-music.lnk.to/High
For information on Maro Music (Marek Walaszek), Andrew Rayel, Paul Damixie, GATTÜSO, Ice-T & Mr. X, Fatum, MaRLo, NKRIOT, Zander (Traveler), Ben Rauch, and artists like Armin van Buuren, contact EMILY TAN Media Relations (U.S.), +1(917) 318-3758, EmilyEmilyTan(at)aol(dot)com. Follow EMILY TAN Media Relations on Twitter @EmilyEmilyTan and LinkedIn http://www.linkedin.com/pub/emily-tan/4/342/70b.