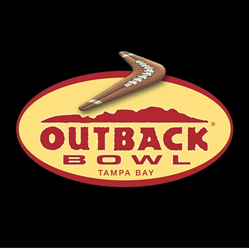 TAMPA, Fla. (PRWEB) October 18, 2019
Outback Bowl President/CEO Jim McVay has announced an agreement to extend long-term broadcast partner ESPN's contract for six additional years through the January 2026 game. As part of the new agreement, the Outback Bowl will also continue to be played in the coveted New Year's Day line-up where it has been for the past 32 years - second only to the Rose Bowl. The January 2020 game will be televised on ESPN with a 1:00 PM ET start time.
"Finalizing this agreement with ESPN along with six-year contract extensions with title sponsor Outback Steakhouse, the longest tenured title sponsor in the history of bowl games, and our conference partnerships with the SEC and the Big Ten/ACC Conferences positions our game to continue to make a dramatic impact on the Tampa Bay community, the universities and local charities," stated McVay.
"For ESPN and our fans, the Outback Bowl has been a New Year's Day tradition going on more than 27 years," said Kurt Dargis, ESPN Director of Programming and Acquisitions. "By extending our long-time relationship with the Outback Bowl, we will continue to showcase the Tampa region with a top matchup every year and we further solidify our industry-leading bowl lineup for the next several years."
"We have been a part of their television family for twenty-seven years and they have been a critical part in the success of our New Year's Day game. ESPN has been a tremendous partner and we look forward to the continuation of our relationship," added McVay.
Extending these key relationships ensures the Outback Bowl will be able to grow the more than $1 billion economic impact it has generated to date, continue to positively showcase the Tampa Bay region both nationally and internationally, add an additional $45 million to the almost $150 million generated for universities and expand its Charitable Giving Initiative program which has already benefited over 110 non-profits. Since its inception in 2016, this Outback Bowl Initiative has donated $1.5 million to area charities and officials have pledged to give a minimum of $3 million more over the next six years.
About the Outback Bowl:
The Outback Bowl attracts visitors from more than 40 states each year to join local fans for the game and week of events while generating tens-of-millions of dollars in exposure for the region. The bowl boasts the longest title sponsor in bowl game history with Outback Steakhouse celebrating its 25th year with the game. The bowl has contributed over $149 million to universities over its history and is estimated to have generated more than $1 billion in economic impact for the Tampa Bay area over this time. It has also contributed more than $1.5 million to area charities since 2016 and has committed to paying an additional $45 million to universities and donating at least $3 million more to charities through the 2026 game.
About ESPN:
ESPN, the world's leading sports entertainment enterprise, features more than 50 assets – nine U.S. television networks, direct-to-consumer ESPN+, ESPN Radio, ESPN.com, ESPN International and more. ESPN is 80 percent owned by ABC, Inc. (an indirect subsidiary of The Walt Disney Company) and 20 percent by Hearst.