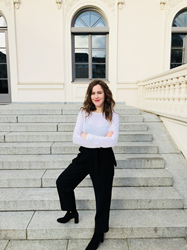 "In our efforts to double down, bringing these regions together was a logical decision as we continue to invest in Outbrain's growth markets," said Flick. "I'm super excited for the opportunity and synergies that these two local teams bring to increase Outbrain's global footprint."
NEW YORK (PRWEB) October 20, 2020
Outbrain, the world's leading discovery and native advertising platform on the open web, today announced the appointment of Magdalena Flick to Managing Director of Benelux. In her new role, Flick will lead the Belgium, Netherlands, and Luxembourg markets, and will be responsible for strengthening key partnerships and overseeing business operations.
"Benelux is a growth market for Outbrain, where we will continue to maintain and strengthen our demand-side offering, whilst ensuring the highest quality standards for our publishers," said Eytan Galai, Chief Revenue Officer at Outbrain. "Since joining the Outbrain team in 2014, Magdalena has proven herself to be a valuable team member and played an integral role in growing the DACH market. Most recently, she led the International Business Operations for LATAM, EMEA, and APAC. Magdalena is the ideal fit for this position, and we're excited to continue watching her success."
"In our efforts to double down, bringing these regions together was a logical decision as we continue to invest in Outbrain's growth markets," said Flick. "I'm super excited for the opportunity and synergies that these two local teams bring to increase Outbrain's global footprint."
In her new role, Flick will be in charge of Outbrain's Amsterdam and Brussels offices, focusing on team growth and expansion. She will continue to report to Alexander Erlmeier, Managing Director, International at Outbrain.
Erlmeier adds, "By combining operations in the Netherlands and Belgium into one Benelux region, we are following a strong market trend that allows us to be agile and adapt faster to client needs. As an immediate market investment, we are expanding our teams in both Brussels and Amsterdam, and restructuring for growth and scale. I am excited for the success of this larger region, as we see tremendous growth potential."
During her tenure at Outbrain, Flick has held several positions in the DACH market, where she was responsible for countless global customers and played a key role in successful product launches in the German market. Prior to Outbrain, she worked for Westwing Home & Living and Yahoo! Flick has also lived in Brussels, Belgium for seven years.
And as part of the organizational restructuring, Nick Kalse has been promoted to Head of Sales, Benelux, working with the sales teams in both the Netherlands and Belgium.
About Outbrain
Outbrain is the world's leading discovery and native advertising feed for the open web. A third of the world's Internet-connected population explore and discover information through our feed technology, which is trusted by emerging to established brands and integrated into thousands of media companies' tech stacks to manage and monetize their publishing operations. Outbrain operates in 55 countries and is headquartered in New York City with offices in 18 cities worldwide. Learn more at http://www.outbrain.com or follow us on Twitter, LinkedIn, and Instagram.