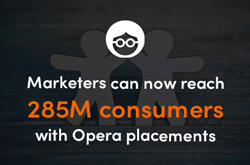 NEW YORK (PRWEB) November 02, 2020
Outbrain, the world's leading discovery and native advertising platform on the open web, announced today a partnership with Opera. Through the partnership, marketers will now have access to inventory across Opera's ad network, served programmatically through Outbrain's advertising platform, Amplify. Buyers are now equipped with direct access to Opera Ad Exchange, a global mobile and in-app-focused programmatic advertising marketplace reaching 285 million users worldwide.
"We're thrilled to announce our partnership with Opera," said Victor Charpin, Head of Platform at Outbrain. "This is a great opportunity to provide our advertisers with quality inventory on one of the largest app publishers in the world. Traditionally, web browsers are not known to run native ads within it's networks. We're flipping the script — and making it possible for marketers to connect to their target audiences within premium, engaging environments, and truly native formats."
"​Outbrain has proven to be a leader in the native advertising space. At Opera, our browsers have helped 285 million people access the internet to read, create, laugh, and play. By joining forces, our partnership with Outbrain allows us to connect with consumers on a wider scale," said De Barros Marcio, Head of French Speaking Africa and Programmatic at Opera Software.
Through the partnership, Outbrain's marketers will now have direct access to Opera's owned and operated inventory, including Opera News, Opera Mini, and Opera Browser, on a global scale. In addition, marketers will be able to access audiences from Opera's extensive range of partners across leading mobile phone brands, including Novo, Xiaomi, Oppo Mobile, and vivo thanks to pre-installed Opera Browser and News Apps on these devices.
Effective immediately, Outbrain marketers can begin buying Opera premium inventory at scale. To learn more, contact us.
About Outbrain
Outbrain is the world's leading discovery and native advertising feed for the open web. A third of the world's Internet-connected population explore and discover information through our feed technology, which is trusted by emerging to established brands and integrated into thousands of media companies' tech stacks to manage and monetize their publishing operations. Outbrain operates in 55 countries and is headquartered in New York City with offices in 18 cities worldwide. Learn more at http://www.outbrain.com or follow us on Twitter, LinkedIn, and Instagram.
About Opera
Opera was founded in 1995 in Norway on the idea that everyone would browse the web on any device. For more than 20 years our browsers have been helping millions of people access the internet to read, create, laugh, and play. We continued to make our browsers smaller and faster and pioneered innovations such as tabs or speed dial, which have since become something we find in all web browsers.