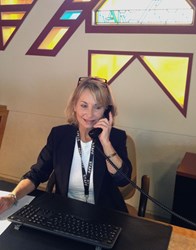 The most significant implication may be that this ROM system can be used by any rehab center, not just Narconon, for repeated and regular post-treatment follow-up as a method of quality assurance.
(PRWEB) October 02, 2013
An outcome monitoring system developed at Narconon may help rehab facilities around the country better monitor their results and improve their services, according to a paper just published in the peer-reviewed journal Substance Abuse: Research and Treatment, a Libertas Academica publication.
The work, led by Dr. Richard Lennox, PhD, of Chestnut Health Systems in partnership with co-investigators including UCLA psychiatry professor Alfonso Paredes, MD, details a successful effort to develop and test a Routine Outcome Monitoring (ROM) system for measuring key rehab outcomes such as abstinence and quality of life.
Such data is critical to ensuring delivery quality, and can alert facilities that clients need to be recalled for further services.
"The Center for Substance Abuse Treatment has long advocated strongly that rehab centers monitor their post-treatment outcomes to improve the effectiveness of program delivery," said Dr. Lennox. "The most significant implication may be that this ROM system can be used by any rehab center, not just Narconon, for repeated and regular post-treatment follow-up as a method of quality assurance."
"We hope this provides them a simple, useful tool," he added.
In the project, the researchers addressed two key challenges for centers desiring to track outcomes: the difficulty of locating clients once they have left rehab, and the reality that training and administrative requirements associated with some systems can make outcome monitoring too costly for many providers.
Some of the procedures already in place at the Narconon Arrowhead in Oklahoma, where the project was conducted, helped to address these challenges, including detailed data collection at enrollment, good staff-student ratio and higher than average hours of 'staff contact,' and an existing system of quality control procedures.
Drawing from these, the researchers developed a streamlined system that could work in any setting, including a short but robust telephone survey, utilizing core questions from well-established questionnaires, that could measure not only abstinence but other outcomes essential to recovery, such as return to work or school, family/social relations and housing.
Between 2004 and the first quarter of 2007, staff trained in the system were able to complete post-treatment surveys of over 300 individuals who had completed the Narconon program. By developing simple yet systematic client tracking procedures the follow-up rates achieved with program graduates improved from 57 percent to 100 percent of the project period.
Survey responses revealed that 73 percent of the graduates contacted had been drug abstinent since they completed their Narconon program and 69 percent had not drunk alcohol to intoxication. The researchers noted that ROM data such as this, while collected primarily to ensure consistent program quality, "can provide valuable insight into the real-world results that are being achieved" by rehab programs.
"Narconon Arrowhead has long incorporated graduate follow-up as part of its community re-integration process, and has been commended by the Commission on the Accreditation of Rehabilitation Facilities for these efforts," said Gary Smith, Executive Director of Narconon Arrowhead. "However, this cost-effective ROM procedure provided a vehicle to gather more accurate consumer feedback and has helped us create and implement treatment strategies to further improve the delivery of program services."
"This system will help us produce better outcomes on an ongoing basis," said Smith. "We're excited about this, and the possibility that work done at Arrowhead can help other programs working to help addicts reclaim their lives."
"A Simplified Method for Routine Outcome Monitoring after Drug Abuse Treatment," published 16 September 2013 in Substance Abuse: Research and Treatment, is available online at:
http://www.la-press.com/a-simplified-method-for-routine-outcome-monitoring-after-drug-abuse-tr-article-a3885-abstract.
Contact:
Clark Carr
President
Narconon International
323-962-2404