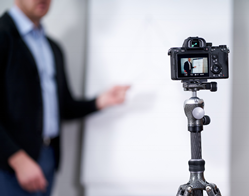 Communication with employees, especially training, cannot be done like it has been done in the past. That's a sure-fire recipe for disaster. The boring training videos with the slide show presentation with monotone narration are detrimental to any training program.
HOLLYWOOD, Calif. (PRWEB) December 07, 2020
Recent research from Stanford University shows that an unprecedented 42% of the U.S. labor force is now working full time from home; in terms of gross domestic product, these work-from-home employees now account for more than two-thirds of U.S. economic activity.(1) As this is a new modality, businesses—especially B2B companies—risk loss of ROI, loss of employee commitment, open themselves to revenue loss and, worst of all, key employee attrition, if they do not embrace the new rules of engagement of video communication, according to Maury Rogow, CEO of Hollywood's Rip Media Group.
"Communication with employees, especially training, cannot be done like it has been done in the past. That's a sure-fire recipe for disaster. To be blunt, the boring 1970s-style training videos with bad acting, or even worse, the slide show presentation with monotone narration, are both detrimental approaches to any training program," says Rogow.
Video communication, video training and video marketing all need to follow the same basic rules in order to succeed, explains Rogow. Companies need to focus primarily on three aspects: the story, the format, and the length. Whether you're training your employees on matters related to their function, teaching new sales or operational programs the company is adopting (such as cybersecurity), employees will not pay attention or learn, if you present the same boring lecture-type of training on the subject.
"First, the communication has to be short. Anything longer than 3 major take-aways or 4 minutes will lower retention. Break your long-form lessons into chapters. Use animation, graphics, make it fun and you will make it memorable. They will retain it. If not, say hello to chaos," added Rogow.
All videos, however, he notes, are not created equal. The story—the vehicle that delivers the content—is perhaps the trickiest aspect of any video, explains Rogow. "Anybody who's ever told a joke and had it fall flat," Rogow says, "understands how important it is to get the pieces of the story in the right order." The same, he says, is true for a training video.
Even when the current pandemic has been contained, moreover, it is expected that the share of working days spent at home will triple from pre-COVID levels, from 5.5% to 16.6%.(2) "We know," says Rogow, "that employee training is essential. In terms of corporate income per employee, profit margin, and shareholder return, companies that make a significant investment in employee training vastly outperform those that don't.(3) The question is: how do you train them?"
The best answer, Rogow suggests, is to embrace new video formats. For one thing, it has a better chance of actually reaching them: according to Forrester Research, employees are 75% more likely to watch a video than to read a document, an email, or a web article.(4) They are also more likely to remember it; research has shown content retention of video-based material to be double that of a conventional training session.(5)
"It doesn't matter if you're successful in engaging your audience (customers and potential customers) if your employees do not have the same level of engagement, which these days translates to commitment to proper training and adopting the necessary measures to life in a video-dependent business culture. In short, if you stick to the boring lectures, you're going to lose," says Rogow.
An investment in training, Rogow notes, is essentially an investment in a company's future. "You can improve your company by improving your training," he says, "which in today's world means improving your video: getting your story told in the right style, and with the parts in the right order. Just how to do that varies from case to case, and there are experts in the field who can help you. If you decide to seek that kind of help, make sure and check their track record. There's no magic formula, but when everything's working, there can be magic results."
About Rip Media Group
Rip Media Group, founded in 2007, is a trailblazing video marketing company based in Los Angeles, California. Founded by digital pioneer Maury Rogow, Rip Media Group brings a unique combination of storytelling art and ROI strategy to the field of animation and live action video. Maury also is at the helm of LightsCameraSales.com which teaches entrepreneurs, small business owners and marketers how to turn their stories into sales.
1. Wong, May. "A Snapshot of a New Working-from-Home Economy." Stanford News, 26 June 2020, news.stanford.edu/2020/06/29/snapshot-new-working-home-economy/.
2. Altig, David, et al. "Firms Expect Working from Home to Triple." Federal Reserve Bank of Atlanta, frbatlanta.org/blogs/macroblog/2020/05/28/firms-expect-working-from-home-to-triple.
3. Rizkalla, Emad. "Not Investing in Employee Training Is Risky Business." HuffPost, 30 Aug. 2014, huffpost.com/entry/not-investing-in-employee_b_5545222.
4. Ferguson, Samantha. "10 Reasons to Use Video for Employee Training and Development." B2C Brandviews, 15 June, 2018, business2community.com/brandviews/wyzowl/10-reasons-to-use-video-for-employee-training-and-development-02080170.
5. "5 Video Based Learning Facts That Make The Case For A Video Platform." Panopto Video Platform, 1 Aug. 2020, panopto.com/blog/5-facts-you-can-use-to-make-the-case-for-video-in-your-learning-development-organization/.