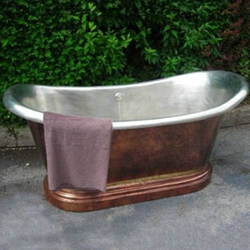 Because most people shower regularly and treat baths as a special occasion, it makes sense to keep the shower inside and use a large, decorative soaking tub as a special spot to indulge, unwind, and relax.
(PRWEB) June 12, 2015
HomeThangs.com – the Online Home Improvement Store has made their goal to deliver the right product to the consumer. With that in mind, shopping and home design tips, as well as special product selections are being introduced.
Spa style bathrooms often incorporate one more natural elements into their design. After all, getting back in touch with nature is a big part of what spa retreats are about. But often these features are merely superficial. Outdoor bathrooms go a step further, actually merging indoor and outdoor spaces. How combined the spaces are (and how much they can be separated) depends a bit on the design, and HomeThangs.com has introduced a guide to a few configurations that work in a variety of different climates.
Outdoor bathrooms are obviously best suited for warmer climates, places with little or no precipitation and relatively mild weather year-round. But while truly open air bathrooms won't really work in cool climates, it is still possible to create a hybrid indoor/outdoor bathroom that can be closed in or opened up depending on the weather. Sliding doors, French doors, or even walls or windows that can be removed entirely provide greater access to the outdoors while still protecting the bathroom from the elements. Most bathrooms keep at least the vanity and toilet more or less indoors, but either the shower, the bathtub, or both can be installed outside. HomeThangs.com's new guide looks at a few ways to enjoy the sunshine and open air while still maintaining some degree of privacy.
For a more in-depth look at different outdoor bathroom configurations, and to see some beautiful designs in action, check out the full article here.
HomeThangs.com is not only a home improvement superstore, it also provides expert design tips and a comprehensive shopping guide, taking the ideas from professional interior designers, and offering tips to the consumers on how to pick the products to best suit their needs.