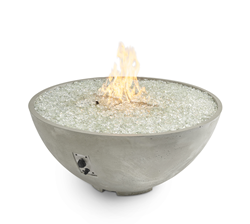 "The new bowl is truly a complement to an already popular collection," Hearth and New Construction Manager Jeff Hanel said. "Its unique mold and use of durable Supercast™ concrete makes it the perfect product for a commercial or residential application."
MINNEAPOLIS (PRWEB) March 05, 2021
The Outdoor GreatRoom Company™ is excited to add the Cove Edge Gas Fire Pit Bowl to its popular Cove Collection.
The Cove Edge joins the contemporary Cove Collection as a unique and ultramodern outdoor fire feature. It is constructed of unique Supercast™ concrete with three color variations to choose from: Natural Grey, White, or Midnight Mist. The ledge of the bowl is thin in design to imitate a more familiar bowl look.
"The new bowl is truly a complement to an already popular collection," Hearth and New Construction Manager Jeff Hanel said. "Its unique mold and use of durable Supercast concrete makes it the perfect product for a commercial or residential application."
The thin edge of the bowl offers a seamless profile that fits a modern landscaping design. Color variations and wear are common attributes to give each bowl a unique and personal look. The Edge propane or natural gas fire pit is manufactured in the United States to ensure its quality and short lead times for faster shipping.
While the Cove Edge round firepit is setup for liquid propane, an installer can convert to natural gas using the included conversion kit. The 42-inch Crystal Fire® Plus burner insert and plate is UL Listed for safety and quality. The gas fire feature does not fit a 20-pound propane tank in its base.
The Cove Edge is available now and shipping right from the United States. All Cove Edge gas fire pits include clear glass gems–tumbled lava rock, glass wind guard, and other fire media sold separately. More products will be released this year.
ABOUT THE OUTDOOR GREATROOM COMPANY
The Outdoor GreatRoom Company manufactures innovative, upscale products with design appeal for indoor and outdoor living spaces. Products include gas fire pits and gas fire tables, ready-to-finish fire pits and fireplaces, outdoor kitchen islands, outdoor gas fireplaces, indoor electric fireplaces, outdoor patio furniture, mantels, custom, and commercial-grade products. Visit http://www.outdoorrooms.com for more information.