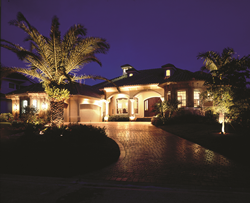 FORT LAUDERDALE, Fla. (PRWEB) November 16, 2020
America's leader in low-voltage landscape and architectural lighting, Outdoor Lighting Perspectives (OLP), is pleased to announce the opening of Outdoor Lighting Perspectives of Fort Lauderdale & Boca Raton, FL. This new OLP location is owned and operated by Ben and Hayley Cole.
Starting in November 2020, Outdoor Lighting Perspectives of Ft. Lauderdale and Boca Raton offers design, installation and maintenance of low-voltage outdoor lighting systems for residential, hospitality and holiday lighting. This location will service all of the Fort Lauderdale and Boca Raton areas, including Pompano Beach, Coral Springs, and Deerfield Beach.
Ben and Hayley Cole stem from the professional yachting world. They met back in 2004 and traveled the world working aboard large privately owned yachts for 7 years, until the time came to settle down and start a family. Ben continued his career as a yacht captain while they settled in Fort Lauderdale, Florida having their two beautiful daughters, Georgia and Ayla. Recently they welcomed an Aussiedoodle puppy (Pepper) to the family.
With many years of providing exceptional service to clients, Ben and Hayley are extremely excited to bring their hospitality experience, hardworking ability, impeccable attention to detail and passion to the outdoor lighting industry through their business.
"We are thrilled to have Ben and Hayley join the Outdoor Lighting Perspectives family," announced Rich Young, Vice President and Brand Leader of Outdoor Lighting Perspectives. "Their positivity, strong work ethic and creativity will lead to building a very successful OLP business."
To learn more, visit the website at https://www.outdoorlights.com/ft-lauderdale-boca-raton/.
About Outdoor Lighting Perspectives
Established in 1995, Outdoor Lighting Perspectives is the nation's first and largest full-service, low-voltage outdoor lighting company. With over 150,000 installations across the North America, the franchise is known for skillful, custom design for the hospitality industry, commercial businesses and residences. Featured in Lodging Magazine, Garden Design, House Beautiful, Better Homes and Gardens, Coastal Living, HGTV Magazine and Martha Stewart Living, Outdoor Lighting Perspectives features stunning handcrafted copper and brass LED lighting fixtures. Learn more at https://www.outdoorlights.com/.