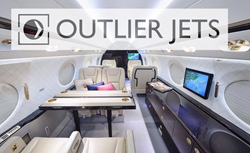 As major commercial airlines announce a reduction in routing, Outlier Jets is offering guests of Rosewood Bermuda a more convenient and safer option
NAPLES, Fla. (PRWEB) November 04, 2020
Outlier Jets, a leading private aviation company offering individuals and corporations access to private aircraft through the Outlier Jet Card Program and Global Charter Team, has launched a route to Bermuda, as part of a new collaboration with Rosewood Bermuda, the island's premier luxury resort.
"We're thrilled to add Outliner Jets, an industry-renowned private aviation company, to our list of partners who are dedicated to providing our guests with a safe and seamless journey to Rosewood Bermuda," said Sascha Hemmann, managing director of Rosewood Bermuda. "Existing and prospective clients considering our resort for off-site meetings, intimate conferences, annual shareholder meetings, and more, will be able to take advantage of Outlier Jets' preferred pricing."
The new route comes at a time when air travel is challenging, and businesses are seeking a safer way for their employees to travel. Outlier Jets will provide Rosewood Bermuda guests with a private aviation option from major U.S. cities. Prices for round-trip air travel to Bermuda range from $19,500 to $45,000, dependent on aircraft size.
"As major commercial airlines announce a reduction in routing, Outlier Jets is offering guests of Rosewood Bermuda a more convenient and safer option," said Michael Farley, chief executive officer, Outlier Jets. "Private jet travel remains a safer alternative to commercial air travel, and we offer our unwavering commitment to remain vigilant in offering a safe and seamless travel experience for all of our passengers."
Outlier Jets, one of the fastest-growing Jet Cards in the private aviation industry, is the most intelligent way to fly privately by offering members the greatest flexibility, competitive all-inclusive pricing, and access. The Card Program provides access to age-guaranteed private jets across the four core categories – light, midsize, super-midsize, and large-cabin jets.
For more information about Outlier Jets, visit http://www.outlierjets.com.
About Outlier Jets:
Outlier Jets is a private aviation company offering individuals and corporations access to private aircraft through the Outlier Jet Card Program and Outlier Charter Team. With offices in Florida, New York, Boston, and Los Angeles, The Outlier Jet Card is one of the only providers currently offering access to seven categories of aircraft, including helicopter, prop aircraft, executive jets and airliners. The Outlier Intelligence Program also helps clients to purchase or divest personal or corporate aircraft. For more information, visit http://www.outlierjets.com.
About Rosewood Bermuda:
Rosewood Bermuda is a renowned residential and resort community with breath-taking vistas of Castle Harbour, Harrington Sound and the Atlantic Ocean. Opened in 2009 as Rosewood Tucker's Point, the property is one of Bermuda's premier luxury resorts and was the island's first-ever property to offer private residence club in addition to whole ownership homes. Rosewood Bermuda reopened in April 2018 following a comprehensive renovation that included a complete refresh of the resort's guestrooms, new and elevated food and beverage outlets, expanded meeting spaces, and enhancements to Sense®, A Rosewood Spa, the Beach Club and the Golf Clubhouse. Upon reopening, the landmark property debuted to offer guests, homeowners and members new opportunities to relax, unwind and immerse themselves in the local culture.
Visit https://www.rosewoodhotels.com/en/bermuda for additional information or follow the latest news through the hotel's social media channels on Twitter & Instagram @RosewoodBermuda or on facebook.com/rosewoodbermuda.