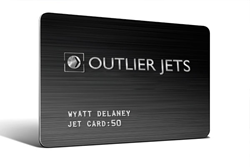 The ecosystem we are curating with openDOORS Global and other select partners, will help to insulate our members and guests from COVID-19, while also allowing them to maintain some normalcy in their lives through the experience of travel
NAPLES, Fla. (PRWEB) September 10, 2020
Outlier Jets, a leading private aviation company offering access to private aircraft through the Outlier Jet Card Program and Global Charter Team, announces it is partnering with fellow Florida-based company, openDOORS Global, a global luxury travel consultancy that specializes in the converging markets of travel, hospitality, real estate, and lifestyle management. Due to the currently restrictive nature of global travel, the time calls for adaptation. In order to continue presenting the world to members and clients, the brands are utilizing their global network in locally imagined ways - in the controlled environment of South Florida. Together, the brands are offering the "openDOORS Local" initiative, designed to allow members and clients to arrive safely and enjoy Florida with its new "one-size-fits-one" turnkey experience.
"The ecosystem we are curating with openDOORS Global and other select partners, will help to insulate our members and guests from COVID-19, while also allowing them to maintain some normalcy in their lives through the experience of travel," said Cathleen Brustuen, senior director, Outlier Jets. "With the expertise of openDOORS Global, we are proud to partner with seasoned educational and medical professionals to design a controlled ecosystem based on our customer's specifications. With this new offering, members can rest easy knowing we can execute the highest caliber of personalized care for our travelers and their families."
With the fall and winter seasons fast approaching north of the sunbelt, consumers will not be outdoors as frequently, and restaurants will not be able to offer outside dining as temperatures cool. The "openDOORS Local" initiative between the companies and other brands, such as Pulse and Remedy and City Kid Tutors, allows consumers to escape the foreboding winter season and bring back a bit of normalcy to their lives, particularly for those with children participating in remote learning. The new initiative also provides access to luxury rental accommodations specifically prepared for families seeking a short getaway or a season long respite.
"At Outlier Jets, we always strive to provide the best for our members and add value to our new clients through innovation and our ability to adapt. We're pleased to partner with an innovative company like openDOORS to safely move families, their elderly loved ones, college students, those traveling for unforeseen needs, and mission critical business trips," said Michael Farley, chief executive officer, Outlier Jets. "As more Americans take to the skies, private jet travel remains a safer alternative to commercial air travel, and we offer our unwavering commitment, along with openDOORS, to remain vigilant in offering a safe and seamless experience."
openDOORS' collective mission has always been to sell the world, but in these unpredictable times, and with winter on the horizon, they have activated their global mindset and network on a more local level, in their current home of South Florida. "Working hand-in-hand with a private aviation company such as Outlier is essential to the success of a trip from start to finish, local or abroad," said Kyle Seltzer, co-founder, openDOORS. "As our major client-base stems from the northeast and the pandemic continues to bear weight on global travel plans, having access to Outlier's highly trained, dedicated, and cooperative teams in the aviation sector allows openDOORS to be the trusted resource that effortlessly re-normalizes family life."
Outlier Jets, one of the fastest-growing Jet Cards in the private aviation industry, is the most intelligent way to fly privately by offering members the greatest flexibility, competitive pricing, and access. The Card Program provides access to age-guaranteed private jets across the four core categories – light, midsize, super-midsize, and large-cabin jets – starting with all-inclusive pricing for Light Jets at $5,200 per hour inclusive of tax, fuel, and catering.
For more information, visit http://www.outlierjets.com, or https://www.opendoorsglobal.com/local.
About Outlier Jets
Outlier Jets is a private aviation company offering individuals and corporations access to private aircraft through the Outlier Jet Card Program and Outlier Charter Team. With offices in Florida, New York, Boston, and Los Angeles, The Outlier Jet Card is one of the only providers currently offering access to seven categories of aircraft, including helicopter, prop aircraft, executive jets and airliners. The Outlier Intelligence Program also helps clients to purchase or divest personal or corporate aircraft. For more information, visit http://www.outlierjets.com.
About OpenDoors Global
openDOORS is a Global Membership Community that specializes in the converging markets of Travel, Hospitality, Real Estate, and Lifestyle Management. Our members are made up of individuals, hotels, businesses, and brands that share in core beliefs of Loyalty, Transparency, Genuine Hospitality, and Community. For more information, visit http://www.opendoorsglobal.com.