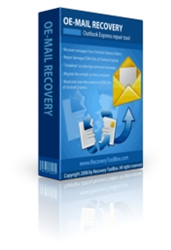 the ultimate Outlook Express recovery tool that is easy enough to be accessible for all categories of users.
Sacramento, CA (PRWEB) March 10, 2014
Recovery Toolbox, a renowned supplier of recovery software for the most popular office applications and other programs, is glad to present the fastest and most advanced version of OE-Mail Recovery, one of the company's best-selling products and an award-winning Outlook Express recovery tool. http://www.oemailrecovery.com/outlook-express-recovery.html
The new release is based on a completely rewritten engine that leverages the power of advanced heuristic algorithms to find and restore the maximum of data from damaged DBX and DBT files. This Outlook Express recovery tool works with files of any size damaged as the result of hardware and software issues, OS crashes, virus attacks, transmission errors and other typical problems. http://www.outlookexpressrepair.oemailrecovery.com/
The program features a convenient and intuitive interface that provides instant access to all program features and is simple enough to be used by people with minimal computer skills. OE-Mail Recovery fully automates the recovery process by processing items in the batch mode and even enables users to restore previously deleted messages from the Deleted Outlook Express folder. http://www.oemailrecovery.com/dbx-extract.html
Extracted messages are saved in the *.eml format, which is used by the majority of email applications. The installation file of this Outlook Express recovery tool has a compact size, and the program does not require any additional components or libraries to be downloaded and installed. OE-Mail Recovery is a must-have utility for all users looking for a reliable method of restoring the contents of their DBX/DBT files without resorting to third-party services.
"We are proud to be offering the most efficient and comprehensive Outlook Express recovery tool on today's market, now with an even faster core and the same convenient interface that users of its previous versions have consistently praised," commented Victor Bobrov, Head of Product Development at Recovery Toolbox.
The free demo version of the program is available for download from the official website of Recovery Toolbox. http://www.oemailrecovery.com/