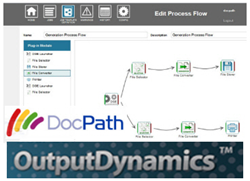 DocPath OutputDynamics stands out among other document software products as a comprehensive and complete Output Management solution.
Atlanta, GA (PRWEB) July 24, 2015
In response to the specific business needs put forward by its clients, DocPath has recently included important enhancements into its group of DocPath Areca solutions. The majority of those improvements has been added to DocPath OutputDynamics Areca, DocPath´s prime Document Output Management solution.
Demanding Expectations
The evolution from paper-based communications to digital communication channels has shaped the expectations and demands posed by today´s clients. According to DocPath, a leading provider of document software geared towards Customer Communications Management, that transition and the current market climate, in which the concepts of flexibility, speed and data security prevail, constitute the main challenges that document software providers are facing today. DocPath has opted to respond to these specific needs by developing a set of improvements for its main Output Management solution, DocPath OutputDynamics.
Important Enhancements in Output Management
DocPath OutputDynamics stands out among other document software products as a comprehensive and complete Output Management solution. The product allows clients to cover the entire document cycle, from the template design to the required post-processes and the distribution of the generated document. Its main characteristics include advanced integration capabilities with any company´s infrastructure, an online console that provides total control of all document-related processes and the possibility of applying a wide variety of pre- and post-processes, such as organizing documents by specific client data and including customized, client-geared, advertising (TransPromo), which is one of the key methods to attract new clients and raise customer loyalty and satisfaction levels.
The new features cover all phases of the document process. As such, the design tool provided with DocPath OutputDynamics has been optimized with a new and extended chart creation wizard, more region-specific options (language, currency, units of measurement, etc.) and more pagination options, among other options. On the other hand, DocPath´s engineers have focused on different methods to improve the document generation speed, such as the processing of large images, which has been greatly optimized.
Post-processes For Any Business Needs
One of the Document Output Management options that is demanded by most companies includes the need to apply specific post-processes to generated documents. For this reason, DocPath has included a wide variety of pre- and post-processing options to its OutputDynamics solution. For example, clients are now able to easily and rapidly add non-DocPath programs to the DocPath OutputDynamics process, merge different file types and convert generated files into other file formats, such as PCL, PDF, etc.
The great amount of improvements added to DocPath OutputDynamics will, without a doubt, improve the Customer Communications Management processes of any type of organization. After all, these companies will be able to optimize their customer communications with a software that not only simplifies and automatizes all document processes, but which also increases overall efficiency and performance levels.
About DocPath
DocPath is a leading document software manufacturer that provides its world-wide customers the technology that allows them to implement sophisticated Customer Communications Management and Document Output Management processes. Created in 1992, DocPath solutions are found in companies all over the world. Its international clients include prestigious banks and first class corporations, which are aided by DocPath solutions by simplifying the complicated and critical task involving the design and distribution of business and customer documents. DocPath maintains a strong commitment to R&D&i, an area that receives a good amount of its revenue, and in which lies the key to the company´s success.
For more information, visit: http://www.docpath.com
DocPath is a registered trademark of DocPath Corp. All rights reserved. Other trademarks may be the property of their respective owners.