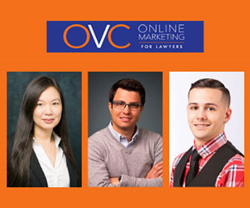 "Search engine optimization is critical for helping clients in today's crowded online environment. Having an optimized website is essential to excellent search results. Our talented team understands how analytics works to maximize our clients' websites so they stand out from the crowd," G. Wildman
DOWNERS GROVE, Ill. (PRWEB) December 05, 2019
Standing out on the Internet requires high visibility so potential clients can find a company. Improving a law firm's online presence is a combination of years of legal marketing experience and website development expertise. On-site search optimization means that several key components of a website have been written to make the site more visible to search engines. These include:
Content
Landing Pages
Meta Tags and Meta Descriptions
Keywords
Christine is the Director of Search Marketing and manages clients' pay-per-click (PPC) accounts and implements advanced SEO techniques. Certified in Google Ads and Google Analytics, Christine also contributes to the OVC team by analyzing website traffic, website development, and content writing. Christine uses her analytical experience to develop and implement SEO and SEM strategies to assist clients with lead generation.
Michael joined OVC as the Digital Marketing Specialist and was promoted to the SEO Manager after one year. With his experience in content marketing and SEO, Michael monitors the industry and online environment for the latest trends. Michael is an active learner of the digital marketing world and how search engine optimization helps businesses drive customers into the sales funnel.
Frank is the SEO Specialist at OVC and is responsible for auditing websites, tracking the results of SEO campaigns, and making sure clients rank high in Google. Frank has a strong base knowledge of all the digital marketing channels including Facebook Ads, Google Ads, SEO, and more.
OVC, INC. President Greg Wildman is proud of the contributions and accomplishments of the OVC SEO team. "Search engine optimization is critical for helping clients in today's crowded online environment. Having an optimized website is essential to excellent search results. Our talented team understands how analytics works to maximize our clients' websites so they stand out from the crowd," Wildman commented.
About OVC, INC.
As founder and CEO of OVC, INC., previously known as Online Video Concepts, LLC, Greg Wildman has distinguished himself as a leader in the legal marketing industry. Since 1999, Greg has worked with hundreds of law firms and has developed over 500 legal websites. His in-depth knowledge of Internet marketing strategies has helped many OVC clients with search results, ultimately bringing more clients through their doors.
OVC's top priority is helping law firms reach new levels of success. To do this, we create eye-catching, search-engine-optimized sites that meet challenging business goals and offer a satisfying user experience. We have designed, developed, and launched dynamic attorney websites for clients across the country, customizing each one to capture the unique essence, voice, and vision of the individual firm.
To learn more about OVC's SEO team, visit https://www.ovclawyermarketing.com/