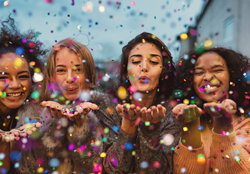 November 27th, 2019: Women-Led Wednesday is a campaign designed to encourage holiday shoppers to support women-led brands through collective purchasing.
SUN VALLEY, Idaho (PRWEB) November 19, 2019
Women-Led Wednesday is thrilled to announce the second annual Women-Led Wednesday on November 27, 2019, bringing together over 300 brands across industries. Women-Led Wednesday is a campaign designed to encourage holiday shoppers to support women-led brands through collective purchasing. Similar to purpose-driven shopping holidays like Small Business Saturday, Women-Led Wednesday is dedicated to supporting and spotlighting a specific business group — women — in efforts to create a more gender-balanced economy.
"I believe that the fastest path to leveling the gender balance of our economy — closing the pay gap, elevating more women into C-suites, seeing more female unicorns, etc. — is to illuminate and encourage the public to vote with their dollars for brands that are already led by women," explained Cassie Abel, Women-Led Wednesday Creator and Wild Rye Co-Founder.
In addition to the November 27 Women-Led Wednesday holiday, the initiative is dedicated to promoting and uniting women-led brands year-round. The organization recently launched a women-led brand directory featuring over 300 women-led brands and counting. The directory is designed to be a public resource for site visitors to explore, discover and shop women-led businesses 365 days a year.
Visibility and financial support is key to the success of women-led brands as just 25% of female business owners seek business financing. According to a BCG analysis report by Harvard Business Review, of the 25% that do seek funding, "investments in companies founded or cofounded by women averaged $935,000, which is less than half the average of $2.1 million invested in companies founded by male entrepreneurs."
"Funding for women-led business is a major issue and well-documented subject," noted Abel. "Most documentation addresses the challenges surrounding raising capital and traditional VC funding. What isn't typically addressed in the headlines is the importance of growing B2C brands without significant outside funding to attract customers organically. Making a point to shop women-led brands on Women-Led Wednesday and beyond is an obvious way the general public can play a role in leveling our economic landscape and improving the health of our economy. Women-Led Wednesday's brand directory aims to make that easy for shoppers."
A gender-balanced economy is simply better business. Harvard Business Review reported that, "this disparity [in funding] exists despite the fact that startups founded and co-founded by women actually performed better over time, generating 10% higher cumulative revenue over a five-year period: $730,000 for women compared with $662,000 for men." Furthermore, "research consistently shows that economic growth for women has an important multiplier effect — when women flourish, so do societies. Women around the world invest 90% of their income back into their families and communities, which translates into greater access to nutritious food, education, healthcare and increased economic activity," according to a piece by Calvart Impact Capital. Simply put, investing in women is good for the economy.
Women-Led Wednesday welcomes all developed consumer product brands and nationally accessible retailers to join the initiative by creating a page and committing to support the grassroots initiative through cross promotion at: WomenLedWednesday.com. To get involved, follow Women-Led Wednesday on social media, explore and share the brand directory with your audiences and #ShopWomenLed on November 27 and the other 364 days a year.
Website: http://www.womenledwednesday.com
Instagram: @womenledwednesday
Twitter: @womenledwed
#WomenLedWednesday #ShopWomenLed
Women-Led Wednesday
Women-Led Wednesday is a nationwide campaign designed to encourage consumers to support women-led brands during the holiday shopping season and beyond. The second annual Women-Led Wednesday will take place on Wednesday, November 27, 2019. The campaign supports women—cis-women, women-identified, and non-binary/genderqueer brand leaders— entrepreneurs and those in leadership positions in efforts to create a more gender-balanced economic landscape. Our mission is simple: support women in leadership. Visit WomenLedWednesday.com for more information.