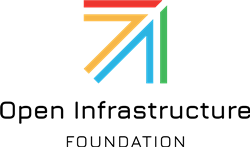 As we look to the next decade of infrastructure, it's clear that open source is the way we'll get there, and a community-driven software approach is how we will do it.
AUSTIN, Texas (PRWEB) October 19, 2020
Open Infrastructure Summit — The OpenStack Foundation has taken the next step in its ongoing evolution "to build open source communities that write infrastructure software in production" by becoming the Open Infrastructure Foundation (OIF). The name change recognizes an expansion of the organization's mission, scope and community to advance open source over the next decade to support open infrastructure for a market estimated at $20 billion USD.(1)
As the requirements for compute, storage and networking have evolved, the role of open source software has expanded. During this evolution, the Foundation has remained focused on building open source communities that write software for production environments for emerging use cases, including artificial intelligence (AI), 5G and edge computing.
"Over the last 10 years since we started OpenStack, open source has experienced such rapid growth that today 99% of companies run open source components in their codebase," said Mark Collier, COO of the OIF. "As we look to the next decade of infrastructure, it's clear that open source is the way we'll get there, and a community-driven software approach is how we will do it. That's why we are excited to welcome Ant Group, FiberHome and Wind River as new Platinum Members, committed to community collaboration and driving progress with open infrastructure projects."
A key participant in the community-driven software approach for Kata Containers, Ant Group, the world's largest payment processor, joined the OIF as a Platinum Member during the October 13 Foundation board meeting. Its team contributes upstream to Kata Containers, has a member on the Architecture Committee and runs Kata Containers in production on thousands of nodes and over 10,000 cores. In the Open Infrastructure Summit keynotes tomorrow, Xu Wang, senior staff engineer at Ant Group, will demonstrate the latest Kata Containers features and explain why Ant Group believes the isolation provided by Kata Containers will be the cornerstone of its financial-grade infrastructure architecture.
"Today, we are very excited to celebrate the launch of the Open Infrastructure Foundation. As a main contributor and user of Kata Containers, one of the Open Infrastructure projects of the foundation, we have benefited much from the community collaboration under its Four-Open philosophy in the past years, which perfectly matches our mission to 'bring about constant and incremental changes that are beneficial to the world,'" said Zhengyu He, senior director of Trust-Native Technology, Ant Group. "With the new foundation name, we believe that we could create more great Open Infra projects like OpenStack and Kata Containers."
After initial code for StarlingX was contributed by Wind River and Intel, Wind River has continued to actively participate in advancing the software project and commercialization of the software. Today, Wind River is increasing its investment in the community by joining the OIF as a Platinum Member and continuing to grow its efforts in AI and machine learning (ML), edge virtualization and cloud-native technologies.
"A digitally transforming landscape is driving increased demands for more intelligence and compute, particularly at the edges of the network. Wind River has long been a major contributor to the Open Infrastructure Foundation community via key projects such as StarlingX and OpenStack. We are excited and honored to expand our commitment to the OIF, as we continue to grow our efforts in AI/ML, edge virtualization and cloud native technologies for our customers spanning industries including telecom, aerospace and defense, and industrial," said Paul Miller, chief technology officer, Wind River. "As a longtime champion for open source, Wind River recognizes that the open source community drives tremendous innovation across industries. We look forward to continuing to be an active member of the OIF community to further address evolving infrastructure needs and accelerate the development of next generation systems for the intelligent edge that also deliver on the highest levels of performance, reliability, safety, and security."
Previously a Gold Member, FiberHome was also approved last week to become a Platinum Member, continuing the work it is doing with the OIF on advancing features in both OpenStack and StarlingX.
"FiberHome is excited to join the Open Infrastructure Foundation (OIF) as a Platinum Member because the foundation's development plan for the next decade is highly compatible with the development direction of FiberHome cloud computing," said Qinglin Li, general manager of FiberHome Cloud Computing R&D Center. "Further cooperation with OIF will promote and accelerate the development of FiberHome cloud computing technology and enhance the competitiveness of its products. In the future, FiberHome will also bring more technology input and best practices to the community to promote mutual development."
Support for the OIF comes from over 60 founding members, including Platinum Members Ant Group, AT&T, Ericsson, FiberHome, Huawei, Red Hat, Wind River and Tencent.
Supporting Open Infrastructure Projects for the Next Decade
Currently the OIF comprises over 100,000 community members in over 187 countries and advances projects such as Airship, Kata Containers, OpenInfra Labs, OpenStack, StarlingX and Zuul. Today, the OIF announces its support for the Magma project.
Magma is an open source software platform that gives network operators an open, flexible and extendable mobile core network solution. Magma was developed by Facebook to bring more people online to a faster network by enabling service providers with open, flexible and extensible carrier-grade networks. Facebook provides technical direction and development leadership for the project, bringing Magma deployments to market globally in partnership with a growing ecosystem.
Magma, OpenInfra Labs Showcased During Summit Keynotes
During today's keynote, OIF's Jonathan Bryce, executive director, and Collier will be joined by Amar Padmanabhan, software engineer at Facebook, who will share how opening up infrastructure for connectivity has the potential to bring more people online around the world. They will be followed by Boris Renksi, co-founder and CEO of FreedomFi, who will walk the audience through the process of building up a wireless network using off-the-shelf components and open source software.
"The biggest benefit of 5G is not faster speed, but efficiencies unlocked through software-centric architecture. Coupled with open source and cloud-native design principles, software-driven 5G networks will have an order-of-magnitude lower operating expense and will make broadband internet available to the next billion people." said Renksi. "We are delighted to be a part of the Open Infrastructure Foundation, collaborating with everybody in the community on realizing the open 5G vision and continuing to build Magma open network core."
In tomorrow's Open Infrastructure Summit keynotes, OpenInfra Labs will be announced as the newest pilot project of the OIF. OpenInfra Labs is making it easier for users to consume and operate clouds constructed from a rich set of open source projects. It is built on an initial use case of the Mass Open Cloud (a collaboration between Boston University, Harvard, MIT, Northeastern, UMass, industry partners and the Commonwealth of Massachusetts), a real-world platform delivering open source projects as services. The community has created a collaboration to develop tools and spaces to produce results, increase visibility of requirements within and across open source communities, and accelerate progress in closing the gaps to enable open source projects to be integrated into reproducible clouds that can be federated together.
"Open source is the foundation for all clouds today, but there are numerous gaps that someone standing up a fully open source production cloud needs to bridge," said Orran Krieger, principal investigator, Mass Open Cloud & Boston University. "OpenInfra Labs is helping bridge the gap between operators and developers, enabling a community for operators to share their knowledge, providing open source developers real visibility into how their stuff is used, and creating a path for the open source community to take full advantage of the agility that public clouds and cloud users have achieved with DevOps. We imagine a day when a patch to your open source project goes through CI/CD, is tested with real users in an hour, and then is rolled out to hundreds of private and public clouds across the world in a day."
OIF: The Home of Open Infrastructure
OpenStack software has flourished in the last decade, becoming one of the Top 3 most actively developed open source software projects in the world, along with the Linux kernel and Chromium. Along the way, the Foundation expanded its mission to establish new open source communities with a focus on building software that runs in production across the world and addressing numerous emerging use cases, including AI/ML; CI/CD; container infrastructure; edge computing; and public, private and hybrid Clouds. The OIF also nurtures cross-community collaboration with other open source communities like Ansible, Ceph, Gerrit, Kubernetes, rust-vmm and more. This evolution transformed the OSF into OIF, the home of open infrastructure.
OIF's Vision for Open Infrastructure: Access to All
In their keynote presentation at the virtual Open Infrastructure Summit today, Bryce and Collier shared a vision for open infrastructure, describing a world where access to infrastructure is available to all.
Bryce described four factors impacting the OIF's prioritization of resources and community participation:

More open source components to build, integrate and test.
Hardware diversification in compute, storage and networking architectures, including GPUs, FPGAs and ARM servers to meet performance, economic, latency and power requirements.
Deployment models in data centers, edge computing and IoT, ranging from small to hyperscale environments.
Global government regulations, including data sovereignty and privacy.
Quotes from Founding Gold and Platinum Members
"99Cloud joined OpenStack Community since our beginning. We're the earliest evangelist of cloud computing in China. We help developers get familiar with OpenStack and help users from many industries build their own cloud platform by using OpenStack. Open source software is eating the world. We believe in the power of open source. 5G is coming. Edge computing is a critical technology which can meet the low latency and high bandwidth requirement. 99Cloud is excited to be a founding Gold Member of Open Infrastructure Foundation. We'll continuously contribute to the community and help developers and users adapt the latest open source software."
— Shuquan Huang, technical director, 99Cloud
"The virtualization of AT&T's network, including our SDN controls, is the foundation of everything we do, and Open source technology sits at the core of our efforts. What's more, the advances we've made in cloud native virtualization, containerization, and hardware and software disaggregation allowed us to reach our software-based networking goal of virtualizing 75% of our core network several months ahead of schedule this year. The Open Infrastructure Foundation and projects like Airship are essential to AT&T continuing this journey by enabling the delivery of our next generation 5G Cloud Infrastructure with 100% consistency, speed, security and operational maturity at scale."
— Ryan van Wyk, vice president, Cloud Platforms, AT&T
"OpenStack continues to meet a key customer need for private cloud operations. Canonical is a proud participant in this community, focused on enabling simpler and more reliable operations of OpenStack at every scale."
— Mark Shuttleworth, CEO, Canonical
"China Mobile, as one of the early adopters of OpenStack, designed and implemented infrastructure to meet our business needs based on OpenStack. In the future, we will continue to adhere to the philosophy of openness and innovation, promote the upgrading of infrastructure architecture based on the next generation of software and hardware technology, and grow together with the Open Infrastructure Foundation."
— Junwei Liu, general manager of IaaS production, China Mobile Cloud Infrastructure Center
Congratulations It's my pleasure to send my heartiest blessings on behalf of China Telecom to the new Open Infrastructure Foundation! As an important global operator, China Telecom uses OpenStack to manage the internal business, IT cloud and network cloud resource pool. The maturity of product solutions and the perfection of the ecosystem have made China Telecom one of the best practitioners and powerful promoters of OpenStack development in China. Collaborative innovation based on open source technology is an important strategy for the China Telecom cloud and network development. In the future, China Telecom will rely on the OIF community to fully promote open cooperation in areas such as 5G, edge computing and hybrid cloud, and promote the sustainable and healthy development of the industry and enterprises. Thanks to OSF for its contributions, and we wish OIF to scale new heights in the next decade!"
— HuLin, general manager of cloud & network development department, China Telecom System Integration Co., Ltd.
"As one of the earliest Gold members, China Unicom has been actively participating in the community contribution and production of the open source projects under the OpenStack Foundation. Up to now, we have deployed more than 10,000 OpenStack powered servers. Wo Cloud CTO Zhong Xin was elected as a board director last year, and we also have one Neutron core who joined the Wo Cloud R&D team recently. We are very happy to see that the OpenStack community is reborn on the occasion of its 10th anniversary, with broader positioning and ambitious goals. With China Unicom Group's new digital transformation strategy, we will increase investment in research and development in terms of multi-architecture support, lightweight virtualization and edge computing cloud. These directions all aligned with Open Infrastructure Foundation's new strategy and goals. I hope that in the next decade of cloud computing, Wo Cloud will grow up together with Open Infrastructure Foundation and lead the wave of cloud computing technology together."
— Xin Zhong, Wo Cloud CTO, China Unicom
"Since 2013, Cisco has been a proud Gold member of the OpenStack Foundation. It has been both exciting and gratifying to watch and contribute to OpenStack's growth from its humble beginnings to becoming the world's third most actively developed open source project and a core technology relied upon by some of the largest companies, educational institutions, and research labs around the globe. We're extremely excited to be a part of this next chapter in the evolution of the Open Infrastructure Foundation and look forward to seeing its impact on the global technology community and the growing number of projects that it hosts."
— Shannon McFarland, distinguished engineer and representative on the Foundation's Governing Board, Cisco
"Open source is where future digital innovation will both happen and live. As such, it is critical for everyone as we are building a better and more open society. With this in mind, we are committed to supporting the Open Infrastructure Foundation and its values. We are truly proud to be one of the founding members."
— Johan Christenson, CEO, City Network
"The work the Open Infrastructure Foundation is doing demonstrates the natural evolution of extending the use of open source for infrastructure management beyond OpenStack. As an inaugural Gold Member, Dell Technologies sees this work as critical for 5G and edge evolution for our Telco and enterprise customers. In addition, we believe that this provides more flexibility for mission-critical operations and strengthens our ability to support customers throughout the entire lifecycle of their Infrastructure deployments and life-cycle management for OpenStack and other platforms."
— Doug Wolff, vice president of Telecom Systems Business Product Management, Dell Technologies
"Open Source, Open Design, Open Development, and Open Community are the four most important factors for a successful community. And a successful open source Foundation should assist the community to be so. We fully believe that's exactly what this Foundation stands for. They keep trying to solve real problems, fighting for diversity and always adopting chances for innovation. We build our products based on this community and that helps us to win our customers trust. With all above reasons, we definitely will keep contributing to this community, making it strong and standing with it. We will keep high hope and wish all the best to this foundation."
— Rico Lin, senior engineer, EasyStack
"Since Ericsson joined in 2012 we have been engaging in several of the projects in the OpenStack Foundation—OpenStack, Ironic, Airship and StarlingX, just to mention a few. We are very excited about broadening the community and adding hardware diversification, along with new deployment models to make us better equipped as we create critical infrastructure for modern use cases."
— Oscar Toorell, head of technology, Cloud Ran, Ericsson
"Congratulations for the establishment of the new Open Infrastructure Foundation. It is a great honor to be a founding Gold member of the new Foundation. Through the past ten years, OpenStack has proven itself to be one of the most active and popular open source projects in the world. Inspur, as one of the key players of the community, embraced OpenStack for more than five years and continued to make outstanding contributions to OpenStack and helped lots of industry customers to build open cloud Infrastructure with open source technology. Especially, we put great efforts into improving OpenStack large-scale capability. Now Inspur InCloud OpenStack has been able to support 1,000 nodes in a single OpenStack cluster. With the launch of OIF, we believe that the community will build a broader ecosystem to drive new innovations for emerging workloads such as AI\5G\edge computings, and Inspur will actively engage and contribute to that journey."
— Sam Liu, deputy general manager, Inspur Electronic Information Industry Co.,Ltd.
"H3C is honored to be a founding Gold Member of the Open Infrastructure Foundation. Over the past eight years, H3C has helped our customers build thousands of cloud data centers with our OpenStack-based products and solutions. H3C will continue to drive the spread, deployment and development of OpenStack, container, and other open source technologies. H3C will also continue to increase the investments in areas such as the hybrid cloud and the edge cloud. We believe these efforts will enable H3C to better help our customers accelerate their digital transformation for smart cities and smart industries, and to build a more open, shared IT development and provisioning model for business agility."
— Liu Yili, vice president, New H3C Technologies
"As a champion of open source, Red Hat has been a longstanding leader in Open Infrastructure and part of the OpenStack community since 2011. Today, as the largest corporate contributor to OpenStack, the framework continues to be a foundation for cloud environments, from private to hybrid and from core datacenters to edge deployments. Wherever critical production workloads reside, Red Hat is committed to meet the evolving needs of service providers and enterprise IT, with OpenStack playing an integral role whether the workloads are mission critical applications or cloud native containers. The bespoke service catalogs our customers want, on the hardware they choose drive innovation without limitations imposed from single vendors or closed ecosystems. We look forward to many more years of community leadership as we evolve alongside our customers. Open your infrastructure, own your future."
— Sean Cohen, senior manager, product management, Red Hat
"Tencent Cloud TStack grew up together with OpenStack and was also one of the first private cloud providers in China that implemented OpenStack. In the future, Tencent Cloud TStack will collaborate continuously with partners in the community to share our massive practical experience of operating internet services for the Open Infrastructure community, and contribute to the community's cloud ecosystem maturity."
— Ruan He, chief architect, Tencent Cloud
"We believe that the new Foundation will merge richer content into the community and promote cooperation of projects in different fields. We will integrate these new elements into Kunlun Cloud products, so as to help customers build a cloud infrastructure platform more appropriate for them."
— Zhang Zuochen, general manager of Software Department, Troila
"At a time when data is the new currency, two ingredients are needed above all: trust and reliability. Cloud computing depends on transparency and rock-solid technical experience. This is why OpenStack is the perfect building block for an infrastructure platform. The four opens of 'source,' 'design,' 'development' and 'community' match perfectly our values. The Open Telekom Cloud is deeply committed to these principles and feels honored to contribute its share of the development. The further advancement to the Open Infrastructure Foundation is thus only stringent. Infrastructure is and will remain an essential pillar of cloud-based information technology. T-System's track record of reliable infrastructure projects and OpenStack's open design form one of the leading public cloud platforms in Europe, which ensures data sovereignty."
— Nils Magnus, community outreach manager, Open Telekom Cloud, T-Systems International
"OpenStack is playing an important role in the business transformation for CSPs as they look for a reliable, open telco cloud platform to manage their cloud infrastructure and drive revenue through new business models and services. As a longtime and ongoing contributor to the OpenStack and many other open source communities, VMware provides a fast and reliable path to 5G, edge computing and telco services on OpenStack. We are thrilled to be a founding member of the new Open Infrastructure Foundation."
— Steve Wehrend, vice president, engineering, Telco and Edge Cloud Business Unit, VMware.
"ZTE is honored to support the Open Infrastructure Foundation to advance open source software as the landscape of infrastructure continues to evolve to support more hardware and to support the central datacenter as well as the edge."
— Chen Xinyu, general manager of Cloud & Core Network Products, ZTE
(1) Sources: 451 Research: "Open Source Cloud Platforms Market Monitor: OpenStack" (September 2019), and Gartner press release (July 28, 2020).
(2) Source: Synopsys: 2020 Open Source Security and Risk Analysis Report
About the Open Infrastructure Foundation
The Open Infrastructure Foundation (OIF) builds communities that write open source infrastructure software that runs in production. With the support of over 100,000 individuals in 187 countries, the OIF hosts open source projects and communities of practice, including infrastructure for AI, container native apps, edge computing and datacenter clouds.