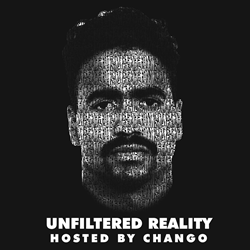 NEW YORK and LOS ANGELES (PRWEB) September 15, 2020
Chango, former head of the notorious drug operation YELLOW TOP CREW premieres a podcast series today: UNFILTERED REALITY HOSTED BY CHANGO.
UNFILTERED REALITY challenges, debates and addresses relevant topics critical to today's drug and civil unrest crises. Chango interviews leaders, executives, entrepreneurs, game-changers and tastemakers along with former gangsters and drug lords, who come together to share their transformative experiences, exchange ideas and invite listeners to take steps to transform their worlds in an interactive format.
Guests in the ten part series include: "Rock Star" Exonerator Harold Ferguson; James CB Gray, "Overnight Occupy" Activist /Actor; and Alex Wright, director and frequent Spike Lee Collaborator and Fashion Mogul/Defend Brooklyn collection; along with former gangsters, drug lords, musicians, artists and more to be announced. Topics include: What Does Being an Urban Terrorist Mean?; How to Run Your Business Like a Drug Lord; From The Block to The Boardroom; Street Culture, Fashion and Film In The Age of COViD; Modern Day Activism, Crime and Police Brutality; and Drug Game vs. Wall Street, What's the F#ckin' Difference?
Chango served time for the crimes he committed, and now he is incorporating life lessons from the streets to help exonerate the wrongfully convicted, while speaking out against drugs, crime and gang life to help inspire and guide at-risk youth. He applies his business skills learned to help others in a more positive light. Chango has developed programs employing ex-cons to build houses and serve the community as a way to pay it forward. In 2009 Chango, a free man said, "Everything can be negotiated, sold or hustled, I've never let nothing consume me".
In 1994, The New York Times article that identified Chango and his partner Tito as the leaders of YTC, the late New York District Attorney Robert Morgenthau stated, "If these people had gone straight, they might have been very successful businessmen". Chango was running a $5 Million dollar a year crack empire during the heyday of the epidemic in the 1990's. He was charged with 10 homicides and multiple police bribes.
"When the world shifted five months ago, we were going into production with CHANGO, our feature film," says Alixx Schottland, CEO and producer of Over the Rainbow Entertainment. "We wanted to begin to share Chango's story – and we look forward to connecting with listeners through the new podcast series." An eight-part docuseries and scripted TV series focused on Chango's life story is in development.
Digital Mind State has collaborated with the team and is distributing this new series to iHeart Radio, Spotify, Google, Deezer and throughout the streaming outlets. The company is the one of the leading content producers in the marketplace.
"Our niche has always been producing and distributing high quality content that entertains and educates people in a digestible and engaging way," says Mike Johns, CEO of Digital Mind State. "Unfiltered Reality: Chango resonates with our platform, we are excited to bring this unique podcast to stream across all the major podcast outlets."
About Over the Rainbow Entertainment
Over The Rainbow Entertainment (OTRE) founded by Alixx Schottland, in New York, pushes creative and social boundaries with Film, Television, Theater and New Media projects that simultaneously entertain and educate audiences. We stand proudly behind the power of storytelling to continually enlighten and ignite radical social change. By using film, television and the stage to illuminate social issues, we strive to foster more inclusive and supportive communities in the entertainment industry and beyond.
We Inspire to Soar Higher!
https://www.overtherainbowentertainment.com
About Digital Mind State
Headquartered in Los Angeles, Digital Mind State leverages nascent technologies, creates immersive experiences and monetizes content. We are a multi-dimensional branding, entertainment and artists content management company that has consistently disrupted the entertainment industry.
We Connect The Streets!
https://www.digitalmindstate.com
About Yellow Films
Established by Chango at Clinton Correctional Facility in 1999. The company plans to further its cause to help those have a documentary platform who have been wrongfully incarcerated and those who have been released and rehabilitated.
Dedicated To Bringing True Life To The Screen!
Follow us on Instagram
@Unfiltered.Reality.with.Chango
@overtherainbowent
@digitalmindstate
Key Words
True Crime, Podcasts, Over the Rainbow Entertainment, Digital Mind States, Drug Lord, Yellow Top Crew, Investigative Reporting, Feature Film, Docuseries, Entertainment