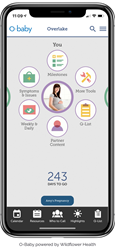 "The O-Baby app will allow us to provide the trustworthy information and support that patients expect from Overlake, in a digital format that works with their busy lives, and empowers them to be proactive in making their own health decisions."
BELLEVUE, Wash. (PRWEB) February 20, 2019
Overlake Medical Center and Wildflower Health announced today a digital partnership to improve pre-natal and maternal care for mothers and their families in the Puget Sound area. The partnership includes a free, mobile app called, O-Baby, which will offer expecting mothers a personalized pregnancy experience from pre-natal planning through the critical first 1,000 days postpartum, providing a seamless transition into parenthood.
The O-Baby app powered by Wildflower's digital platform simplifies healthcare and connects families to the right clinical and local support at the right times, driving interventions with high-risk pregnancies. This ensures that every individual receives the most appropriate level of care, decision support for a variety of scenarios, and adherence and compliance with care plans, appointments, vaccinations and prevention.
"Your baby's birth is a personal, life-changing journey", said Marianne Pizzitola, Director of Overlake's Childbirth Center. "The O-Baby app will allow us to provide the trustworthy information and support that they expect from Overlake, in a digital format that works with their busy lives, and empowers them to be proactive in making their own health decisions."
The O-Baby app will be available to the general public in April, 2019. The partnership with Wildflower Health demonstrates Overlake's ongoing commitment to invest in leading-edge technology that supports a patient-focused approach to care.
"Wildflower Health was born out of the need for direct connections to healthcare resources for mom during her pregnancy and beyond," said Leah Sparks, Wildflower Health Founder and CEO. "We look forward to working with Overlake to deliver their quality, compassionate care to mothers in this convenient, patient-centered tool."
Key features of the O-Baby app include:

Personalized content with daily and weekly milestones based on expected due date, tracking baby's development and common pregnancy symptoms.
Direct connection to Overlake's suite of maternity services, including prenatal and childbirth classes, choosing a healthcare provider, virtual tours of Overlake's Childbirth Center, and postpartum support from infant nutrition to scheduling lactation consultations.
Access to individualized, trusted health and lifestyle information including nutritional advice, safe car seat usage, postpartum exercise instruction, and advice for involving one's partner in parenthood journey.
Seamlessly transitions support of families from pregnancy to parenthood for children from birth to 2 years old, tracking developmental milestones and managing important activities such as scheduling recommended well-child checks.
The O-Baby app will be available on both the Apple App store and Google Play store in April, 2019. For more information, please contact Hilary Benson at Overlake Medical Center.
About Overlake Medical Center
Overlake Medical Center and Clinics is a nonprofit regional healthcare system based in Bellevue serving the Eastside community since 1960. Overlake has been named a Most Wired hospital by the American Hospital Association's Health Forum. The health system includes a 349-bed hospital and a network of primary, urgent and specialty care clinics located throughout the greater Eastside. Overlake offers comprehensive advanced services including a dedicated Cancer Center, Level III Trauma Center, Childbirth Center and level III NICU, cardiac, neurosciences, orthopedic and mental health services. Committed to its mission of compassionate care for every life we touch, Overlake provided $23 million in charity care over the last four years and is consistently recognized regionally and nationally for its quality and employees who are committed to going above and beyond to provide exceptional patient care and service. For more information, visit overlakehospital.org.
About Wildflower Health
Wildflower grows healthy families by making intelligent connections between consumers and their healthcare. We simplify healthcare every day, helping families manage the health needs of moms, dads, kids and aging parents on one shared mobile application. Our mobile-based enterprise software serves as a digital catalyst for our clients, improving clinical outcomes and operational efficiency, while increasing engagement, satisfaction and loyalty. Visit us at http://www.wildflowerhealth.com.