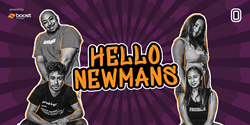 BROOKLYN, N.Y. (PRWEB) October 18, 2019
Overtime announced today that it's teaming up with Boost Mobile, a leader in providing no long-term contract wireless service, to bring Overtime's most popular series –"Hello Newmans"– back for a second season this fall.
Boost Mobile has signed on to sponsor 10 new episodes of "Hello Newmans", which follows one of America's most famous basketball families –The Newmans– as they navigate Julian and Jaden's high school basketball careers and life in central Florida.
The first new episode of "Hello Newmans" returns to Overtime this Saturday, October 19th, at noon ET, with new episodes posting every week through the end of the year.
"Hello Newmans" premiered on Overtime in April. The series had the strongest debut ever among Overtime's stable of long-form shows, with every episode of "Hello Newmans" setting new records for Overtime.
Each of the show's initial 10 episodes averaged more than 6 million views across YouTube, Instagram and Snapchat, with seven of the initial 10 episodes of "Hello Newmans" reaching 1 million views on YouTube within the first 24 hours. Four episodes of "Hello Newmans" rank among the top 10 most popular videos Overtime has ever produced.
"We're excited to team with Boost Mobile to bring the Overtime community even more 'Hello Newmans,'" said Alex Grant, Overtime's head of global sales & brand partnerships. "Our goal is to build the definitive sports network for Gen Z and partner with brands to help them engage this hard-to-reach audience. Boost Mobile will be an amazing partner in nurturing and growing the Newmans franchise."
"We aspire to help people stay connected to what's important and get more out of life," said Andrea Henderson, director of brand marketing for Boost Mobile. "Working with Overtime gives us a new way to connect with Gen Z consumers through their energy and passion for sports. We're proud to join Overtime in bringing back the Newmans for more episodes."
The new Boost Mobile-sponsored episodes of "Hello Newmans" pick up this summer on the 4th of July, with Jamie planning a massive fireworks show for the neighborhood. From there, the show turns its attention to Prodigy Prep, the Newmans' new basketball academy (founded this spring by Julian and Jaden's father Jamie) and the family's crazy nationwide travels throughout the summer.
"Hello Newmans" is part of a comprehensive slate of long-form, episodic programming Overtime has launched over the past year – more than 25 series in all, covering a variety of sports through a range of programming from docu-follow and reality TV to shows focused on sports culture and lifestyle. These series are part of Overtime's larger strategy to create a TV network-level stable of programming, delivered via the platforms where Gen Z now consumes and discusses sports.
Overtime has more than 15 million followers across YouTube, Instagram, Snapchat, TikTok, Twitter, and Facebook. That overall audience has quintupled in size over the past year. Overtime has seen similar growth in consumption of its programming; its videos are now viewed more than 920 million times a month on average, up from 145 million in January 2018.
# # #
About Overtime:
Overtime was founded in 2016 by entrepreneurs Dan Porter and Zack Weiner as a sports network for the digital generation, covering the world's top emerging talents in basketball, football, soccer and esports. Overtime's videos are now viewed more than 920 million times each month across Instagram, Twitter, Snapchat, TikTok, YouTube and Facebook. In 2019, fans have spent more than 1.86 billion minutes –totaling more than 31 million hours– watching Overtime's short-form digital and longer-form series. Overtime's investors include Spark Capital, Andreessen Horowitz, Sapphire Sport, Greycroft, NBA All-Star Kevin Durant and NBA Commissioner Emeritus David Stern.