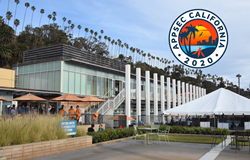 "This is the best conference I have been to in a long time," added Andrew van der Stock, Senior Principal Consultant at Synopsys.
LOS ANGELES (PRWEB) November 11, 2019
AppSec California 2020 will be held January 21-24, 2020 at the beautiful Annenberg Community Beach House in Southern California on Santa Monica State Beach, a three mile stretch of beach along sun drenched Southern California coast. This year's conference will have days 1 & 2 reserved for full-day trainings, while days 3 & 4 will have keynotes and 4 tracks of presentations. AppSec California is a one of a kind experience for anyone in the information security community. https://appseccalifornia.org
Keynote Speakers
We are proud to announce three awesome Keynote Speakers for AppSec California 2020.

Alex Stamos, the well-known and highly respected cybersecurity and business leader, working to improve the security and safety of the Internet through his teaching and research at Stanford University. He was previously the CSO for Facebook, and was among the first people at the company to discover the Russians were using the social network to interfere with the 2016 U.S. election. He was also CISO for Yahoo. He's been one of the more forthright people in tech, and his blogs are acknowledged as some of the best around, as he tackles the really tough issues of tech, cyber warfare, and society.
Samy Kamkar, the famous privacy and security researcher, computer hacker, whistleblower and entrepreneur. Some of his notable achievements are his works with The Wall Street Journal and his discovery of the illicit mobile phone tracking where iPhone, Android and Microsoft Windows Phone mobile devices transmit GPS and Wi-Fi information to their parent companies. His research led to a series of class-action lawsuits against the companies and a privacy hearing on Capitol Hill. Samy is also known for creating SkyJack, a custom drone which hacks into any nearby Parrot drones allowing them to be controlled by its operator. He also created Evercookie, which appeared in a top NSA document revealed by Edward Snowden and on the front of The New York Times. He was also the author of the now infamous Samy Worm which took down MySpace.
Eva Galperin, EFF's Director of Cybersecurity, where her work is primarily focused on providing privacy and security for vulnerable populations around the world. She has applied the combination of her political science and technical background to everything from organizing EFF's Tor Relay Challenge, to writing privacy and security training materials (including Surveillance Self Defense and the Digital First Aid Kit), and publishing research on malware in Syria, Vietnam, and Kazakhstan. She is not afraid to speak out against electronic injustice, and is a great defender of all of our digital privacy rights.
Register
Join us on the beach, grab drinks, hack around, network with over 600 security pros and end the day with a serene sunset. Register before discount pricing ends, so go and own a ticket before it's gameover. https://www.eventbrite.com/e/appsec-california-2020-tickets-77058946383
Diversity and Student Discounts
OWASP AppSec California is dedicated to increasing diversity in the workplace while also helping solve the information security talent shortage. With these goals in mind, the conference is providing diversity scholarships (LGBTQ+, PoC, Women, Veterans, etc.) that covers the price of conference admission and a travel stipend (up to $1200 USD). We are hoping to attract underrepresented groups who either are software developers interested in security, information security practitioners with an interest in application security, or students looking to learn more about security. The application form is available here https://2020.appseccalifornia.org/diversity/
Students are eligible to receive a 2-day conference registration ticket for only $99 (75% discount). The ticket does not include any training sessions and registration must be done using a valid .edu email address to qualify for the discount.
Sponsorship
Sponsorship opportunities are also available, both for the media and for vendors in the security industry. Sponsors will experience the true beach environment, enjoying the sea air and having the attendees join them at the Vendor Expo for the Opening Reception Jan 23rd. See full details and let us help you grow your business. https://2020.appseccalifornia.org/sponsors
About OWASP
The Open Web Application Security Project (OWASP) is a 501(c)(3) worldwide not-for-profit charitable organization focused on improving the security of software. OWASP's mission is to make application security visible to ensure that organizations and individuals can make informed decisions about true application security risks. Participation in OWASP is free of charge and open to the general public. All OWASP materials are available under a free and open source license.
California OWASP Chapters
The OWASP Los Angeles chapter hosts a networking dinner on the fourth Wednesday of every month, and the Orange County chapter meets on the fourth Thursday. OWASP Bay Area meets every other month, while OWASP San Diego and OWASP Santa Barbara chapters meet monthly. Great networking, food and drinks, and awesome presentations focused on what security is really about. Join the movement today.
Join the movement.
https://appseccali.org
http://www.meetup.com/OWASP-Los-Angeles/
http://www.meetup.com/OWASP-OC/
https://www.owasp.org/index.php/SanDiego
https://www.owasp.org/index.php/Santa_Barbara
https://www.meetup.com/Bay-Area-OWASP/
https://www.owasp.org/index.php/Inland_Empire